Madrid AI-H
Edge AI Analytics Product powered by Hailo-8™
Introducing Silicom's Madrid Platform: Unleashing AI Capabilities with Intel ATOM C3758 and Halio-8™ AI mPCIe Accelerator Card
Silicom Madrid Platform is a powerful and versatile solution that combines the exceptional computational capabilities of the Intel ATOM C3758 processor with the cutting-edge AI acceleration of the Halio-8™ AI mPCIe accelerator card. Designed to empower organizations with advanced AI capabilities at the edge, the Madrid Platform delivers unparalleled performance, flexibility, and power efficiency.
At the heart of the Madrid Platform lies the Intel ATOM C3758 processor, a power efficiency system-on-a-chip (SoC) specifically designed for demanding workloads. Featuring eight cores and Intel QuickAssist Technology, the C3758 processor delivers robust computing power and efficient data processing, making it ideal for AI applications. With support for virtualization, security features, and advanced networking capabilities, the C3758 processor enables organizations to handle AI workloads with ease and maximize operational efficiency.
Complementing the Intel ATOM C3758 processor is the Halio-8™ AI mPCIe accelerator card, an AI-specific co-processor designed to accelerate AI computations. The Halio-8™ leverages a powerful array of AI cores and neural network engines, providing high-speed, low-latency AI acceleration. With its dedicated AI hardware, the Halio-8™ offloads intensive AI computations from the CPU, enabling organizations to achieve exceptional AI performance and accelerate their AI workloads.
The Madrid Platform offers a comprehensive set of features and connectivity options, making it a versatile solution for diverse AI applications. With multiple PCIe slots and support for the Halio-8™ AI mPCIe accelerator card, the platform allows for easy expansion and customization, enabling organizations to tailor their AI infrastructure to specific requirements. The platform's compatibility with various operating systems and software frameworks ensures seamless integration into existing AI ecosystems, streamlining deployment and maximizing productivity.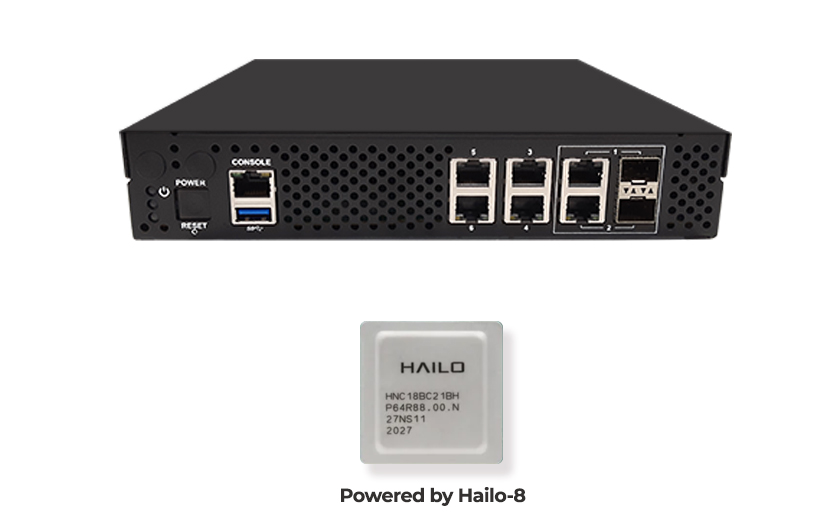 One of the key advantages of the Madrid Platform is its suitability for edge computing environments. With its compact form factor and low power consumption, the platform is ideal for deploying AI capabilities at the network edge, where real-time decision-making and efficient data processing are paramount. Industries such as manufacturing, video security, and smart cities can leverage the Madrid Platform to bring AI capabilities closer to the data source, enabling faster insights, improved efficiency, and reduced latency.
Silicom's Madrid Platform also prioritizes reliability and scalability, offering enterprise-level features and robustness. Built with high-quality components and rigorous testing, the platform ensures stable operation in challenging environments. Additionally, the Madrid Platform supports remote management capabilities, allowing organizations to efficiently monitor, manage, and update their AI deployments, whether they are scattered across multiple edge locations or centralized in a data center.
With the Madrid Platform, organizations can unlock the full potential of AI at the edge. Whether it's real-time analytics, computer vision, or machine learning, the platform provides the necessary infrastructure to drive innovation and gain a competitive edge. By combining the powerful Intel ATOM C3758 processor with the Halio-8™ AI mPCIe accelerator card, Silicom empowers organizations to harness the power of AI, enabling faster decision-making, improved operational efficiency, and transformative insights.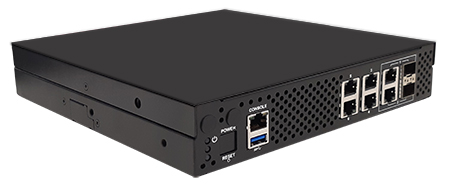 Madrid AI-H
Edge AI Analytics Product powered by Hailo-8™
General Technical Specifications – Madrid Edge-AI

CPU
Intel Atom® C3758/8C/2.2 GHz/TDP 25W
BIOS
Coreboot
BIOS Flash
SPI – Dual redundant
Operating System
Linux
Memory
Two Channels, Memory Down, SODIMM, Up to 32GB, ECC Support, 2400 MTs
Storage
Soldered down eMMC,
M.2 M-Key SATA (supports for 2230/42/60/80), J13
M.2 B-Key SATA or PCIe x1G3( HSIO config) / USB2 and USB3 (support for 2230/42/60/80), J22
1xSATA for 2.5" SSD/HDD: J17
1xSATA DOM ( SATA DOM supports +5V): J16
Ethernet ports
Up to 8 ports:
2 x1GbE RJ45 x via C3000 through Marvell 88E1514P,
4x 1GbE RJ45 via i350AM4 (with optional +2x1GbE (POE+), or 2x 1GbE RJ45 w/ i350AM2 no POE+.
2x 1GbE Combo (UTP or SFP), 2x via C3000 through Marvell 88E1543, SFP slots support 3W each.
Supports for SR-IOV
Console
RS232 RJ45 (Cisco pinout) on front panel
AI accelerator:


Hailo-8™ AI processor with up to 26 TOPS and best-in-class power efficiency
PCIe Gen-3.0, 2 or 4 lanes (up to 32 Gbs)
Support TensorFLow, TensorFlow Lite, ONNX, Keras, Pytorch

USB 3.0
1x USB 3.0 on front panel
mPCIe
2x mini PCIe expansion slots
PCIe Expansion
Not supported
TPM
TPM 2.0
Buttons
Reset Button (programmable through 8051 MCU)
Short tap (<7 seconds) will cause platform reset.
Long tap (>7 seconds) will be used for resetting to defaults.
Power Button (programmable through 8051 MCU)
Very short tap filter (< 2 seconds) – tap shorter than 2 second will be filtered
Short tap (>2 seconds ) – initiate graceful shutdown to host CPU
Long tap (>13 seconds) – hard shutdown for immediate power off
LED's
Tri-color Power LED
Tri-color Status LED (programmable)
LED's integrated in RJ45's
Other Hardware
Battery for RTC
Programmable FAN controller
Watchdog
Form Factor
Desktop Form Factor, (WxDxH) = 222x241x44mm
Rack Mount option
Wall Mount option
OEM branding option
Power
12V@90W External Power Adapter with locking connector.
Optional: Dying Gasp
Cooling
Number of Fans TBD, Design supports 2 FAN
Sensors/Monitors
Thermal protection
Critical Error Detection
Voltage monitors
Current protection
Operating Temperature
0°C – 40°C
Storage Temperature
-20°C – 70°C
Regulation

EMC:

FCC 47CFR part 15: 2019, subpart B, Class B ICES-003: 2017 Issue 6, Class B
VCCI-CISPR 32: 2016, Class B
AS/NZS CISPR 32: 2015, Class B
EN 55032: 2015 + A1(20) + A11(20), Class B
CISPR 32: 2015 + A1(19), Class B
EN 301 489-52: V1.1.0: 2016 (draft), Class B
EN 301 489-17: V3.2.2: 2019 (draft), Class B
EN 301 489-1: V2.2.3: 2019, Class B
EN 55035: 2017 + A11(20)
CISPR 35: 2016
EN 300 386 V2.1.1: 2016, Class B
EN 300 386 V1.6.1: 2012, Class B

Safety:

IEC 62368-1:2014 (Second Edition)
IEC 60950-1:2005 (Second Edition) + A1:2009 + A2:2013
CSA C22.2 NO. 62368-1-14, 2nd Ed., Issue Date: 2014-12-01
UL 62368-1, 2nd Ed., Issue Date: 2014-12-01

Carriers (LTE – Sierra EM7455):

PTCRB
Verizon Wireless
AT&T

GMA (Global Market Access):

CCC (China)
BIS (India)
MIC (Vietnam) – only 90500-0151-G61
NBTC (Thailand) – only 90500-0151-G61
RCM (Australia)
PSE (Japan)
Anatel (Brazil)
El Salvador
KC (S.Korea)
JATE&TELEC (Japan)
NICE (Mexico)

RoHS Directive 2011/65/EU and 2015/863
EN 50581:2012 
Madrid AI-H
Edge AI Analytics Product powered by Hailo-8™
uCPE Desktop
| | |
| --- | --- |
| P/N | Description |
| 90500-0151-E23 | uCPE, Desktop/C3758(8C)/16GB DDR4 w/ECC/ 128GB M.2/6x1GbE powered by Hailo-8 |