Timing Solutions
Silicom N6011 Network Adapter with Timing Solution for 5G Networks
The exponential increase in wireless data demand from people and devices using mobility, cloud, IoT, and machine-learning, is rapidly exceeding the capacity of existing wireless networks. To overcome this, new 5G networks are beginning to deliver faster data rates and lower latency, while enabling excellent quality of service for many new real-time applications and use cases.
5G will unleash unparalleled opportunities for mobile network operators (MNOs) and telecom OEMs. However, the immense possibilities and opportunities require timing synchronization capabilities that were previously built into the circuit-switched equipment used in 3G and 4G networks. To support fully packet-based voice and other real-time applications, 5G networks will need packet synchronization with very high accuracy. In addition, other infrastructure applications including transmit diversity on MIMO antennas or certain carrier aggregation implementations also need time synchronization.
The 5G standard for these applications has rigorous requirements to support end-to-end latency and increased antenna and base station density. Accurate packet timing synchronization is critical to enabling a high-quality experience for real-time applications. This is driving the need for specialized network adapter cards that can synchronize timing with nanosecond accuracy for the most demanding real-time applications and services.
Timing Synchronization
Silicom N6011 Adapter solves 5G network performance and timing challenges
The Silicom N6011 Adapter for 5G provides precise timing synchronization and high performance. It is based on the Intel FPGA Programmable Acceleration Card N6011, which is combined with Silicom Time Sync (STS) technology. The Intel FPGA N6011 is a highly customizable SmartNIC based on Intel AgileX FPGA, which supports high-bandwidth, low latency, and high-throughput applications. The Intel FPGA PAC N6011 optimizes data plane performance to reduce total cost of ownership while maintaining flexibility. Intel is accelerating 5G traffic to enable scalable and high-performance networks.
The hardware includes STS, which offers Synchronous Ethernet and eSync Ethernet (G.8261, G.8262), combined with the IEEE 1588 precision time protocol (PTP). The flexibility of STS allows it to serve as a transparent clock, boundary clock, and grandmaster clock with nanosecond accuracy. When used as the time source, the device provides a 1-second satellite lock. STS ensures synchronization within the physical and protocol layer, which is necessary for higher frequency radio spectrums such as millimeter wave (mmWave). The Silicom N6011 Adapter features an onboard oscillator that creates a clock source for protection in case of failure.
Precise time synchronization over 5G packet networks
The Open RAN-compliant N6011 NIC is deployed in a RAN distributed unit (DU) to add timing to data packets as they pass from a mobile user's device to the antenna into the centralized unit (CU) and into the cloud. This ensures that there are no time-delay variations of packets traveling between link edges, which can add noise to time values from the network and degrade the user experience with real-time applications and services.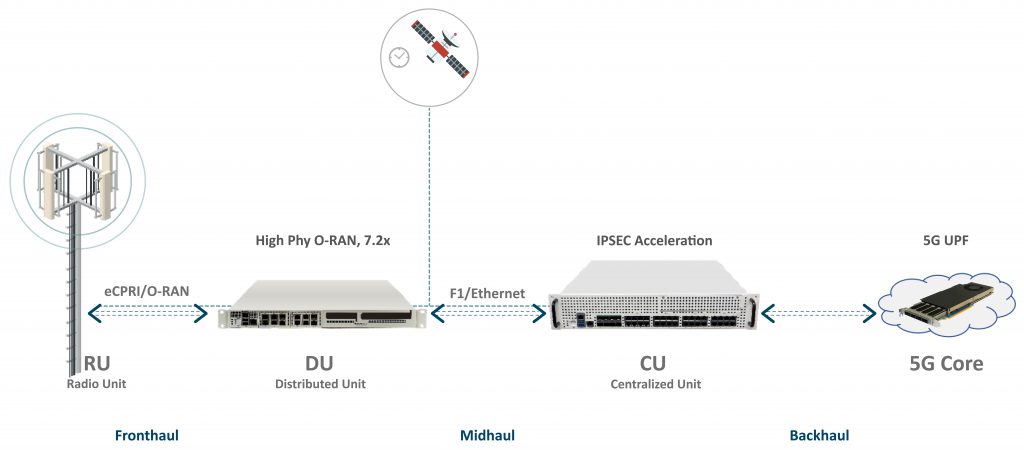 A major challenge for 5G networks is the data packets from real-time applications that take alternate routes through the network, causing the packets to arrive out of order. This results in delays in real-time services, such as garbled speech in a VoIP call. To overcome this, the STS capabilities of the Silicom N6011 Adapter for 5G mark each packet with the correct time, allowing the receiving NIC to ensure the proper packet order.
Silicom N6011 Adapter MNO advantages
Each MNO has its own technology requirements, which are based on its unique infrastructure and services. Silicom's IEEE1588v2 PTP can be used by operators to significantly improve timing accuracy over their existing Ethernet network, without the need for special PTP-aware equipment. The Silicom N6011 Adapter for 5G offers the flexibility, performance, and adaptability needed to support almost any MNO environment and deployment scenario.
The Silicom N6011 Adapter for 5G is designed to be compatible with IEEE 1588v2 PTP timing synchronization, along with telecom profile extension standards. This ensures that the adapter can easily integrate with telecom grandmaster, boundary, and secondary clocks, while also supporting a wide range of time synchronous deployments with exceptional precision when combined with Synchronous Ethernet.
To support carrier aggregation and other use cases, 5G networks necessitate timing synchronization accuracy with a minimum of 65ns. In order to guarantee this level of precision, the Silicom N6011 Adapter for 5G can be utilized as a Synchronous Ethernet Clock. It employs Ethernet Synchronous Message Control for synchronization at both the protocol layer and physical layer, and Synchronous Ethernet for the PTP Boundary Clock for synchronization. The combination of PTP and Synchronous Ethernet also reduces maximum time interval errors (MTIE).
Achieving operational continuity in RAN and packet core networks requires precise, stable, and dependable timing and synchronization across the 5G infrastructure. This is crucial to prevent the risk of catastrophic synchronization loss. The Silicom N6011 Adapter features an oscillator that generates an onboard clock source, ensuring accurate timing even in the event of a primary clocking device failure.