Marbella AI-H
Edge AI Analytics Product powered by Hailo-8™
Silicom Marbella Platform and Hailo-8™ AI Acceleration Module
In data-driven decision-making, the fusion of edge computing and advanced AI capabilities has opened a new era of efficiency and insight. This seamless synergy between the Silicom Marbella platform and the Hailo-8™ AI Acceleration Module propels edge analytics into uncharted territories of technical and professional excellence.
The Silicom Marbella Platform: A Powerhouse in Edge Computing
At the forefront of modern edge computing solutions, the Silicom Marbella platform emerges as a versatile and robust networking appliance. Powered by high-performance Intel® Xeon-D processors and boasting adaptable connectivity options, the Marbella platform creates a scalable environment tailor-made for edge analytics. Its 1U form factor and flexible design make it an optimal fit for diverse edge environments, from industrial settings to IoT deployments.
Hailo-8™ AI Acceleration Module: Taking AI to Unprecedented Heights
Enhancing the Marbella platform is the Hailo-8™ AI Acceleration Module, designed for accelerating Visual Analytics AI. Developed by Hailo Technologies, the Hailo-8™ module offers unmatched performance in edge analytics and AI tasks. It utilizes a sophisticated array of AI processors, enabling fast and efficient execution of complex neural network algorithms.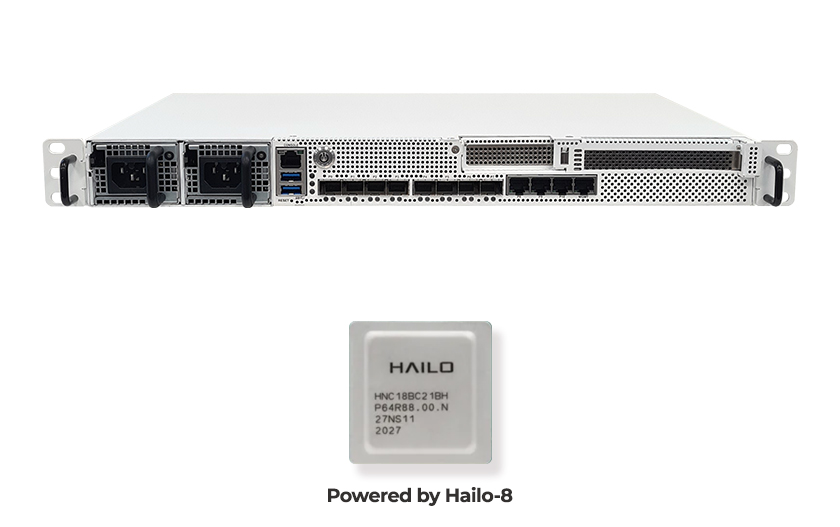 The Dynamic Synergy: Revolutionizing Analytics
The seamless integration of the Silicom Marbella platform and the Hailo-8™ AI Acceleration Module creates a dynamic synergy that redefines the limits of edge analytics. The Intel® Xeon-D processors on the Marbella platform provide a solid foundation for data processing and initial analysis. When combined with the Hailo-8™ module, organizations unlock the ability to perform advanced AI tasks at the edge, such as image and video analysis.
Technical Precision and Professional Excellence
The technical excellence provided by the Silicom Marbella platform, and the Hailo-8™ AI Acceleration Module transcends industries and applications.
• Real-Time Insights: Organizations can leverage real-time analytics, enabling prompt decision-making and fostering agile responses to dynamic market conditions.
• Optimized Resource Utilization: By processing data at the edge, businesses can reduce the amount of data transmitted to centralized servers, leading to enhanced resource utilization and cost savings.
• Operational Efficiency: The Marbella platform and the Hailo-8™ module improve operational efficiency by minimizing latency and enabling timely insights, crucial for sectors such as manufacturing, healthcare, and transportation.
Unleashing the Potential of Edge Analytics
In an era defined by data's transformative impact, the Silicom Marbella platform and the Hailo-8™ AI Acceleration Module emerge as a beacon of innovation and efficiency. Organizations can now leverage cutting-edge edge analytics capabilities, empowered by the Marbella platform's robust infrastructure and the Hailo-8™ module's AI acceleration. This collaboration transcends technological barriers, enabling organizations to seize real-time insights, streamline operations, and drive professional excellence in a data-rich landscape. Experience the future of edge analytics with Silicom Marbella and Hailo-8™.

Marbella AI-H
Edge AI Analytics Product powered by Hailo-8™
Intel® Xeon® D-1700 Platform. Support 4,8, and 10-core CPU SKUs
Memory support up to 256GB DDR4
Supports a Dual x4 PCIe NVMe
Networking

4x 10G/25G SFP28 (support for 10G RJ45)
4x 1G/10G SFP+
3x 2.5G RJ45
1x 1GbE MGMT

Commercial and Industrial Temperature Options
Redundant AC or DC Power Supplies
Short Depth Enclosure (12"/305mm)
PCIe Expansion
x16 Gen4 Full-Height ¾-Length
x8 Gen3 Half-Height Half-Lenth
Support LTE/5G and Timesync modules
BMC with in-band support
Powered by Hailo-8 processor optimized for media stream density and quality.
Marbella AI-H
Edge AI Analytics Product powered by Hailo-8™
General Technical Specifications

CPU:
Intel® Xeon® D-1700. Support for 4,8, and 10-core SKUs
Memory:
3x Channels DDR4, Supports up to 256GB
Storage:

eMMC (4GB to 256GB)
Two NVMe (x4 PCIe)
Two 2.5" SATA

Network:

4x 25G/10G SFP28 (SKU and Configuration Dependent)
4x 10G/1G SFP+ (SKU and Configuration Dependent)
3x 2.5GbE (Intel i226)
1x 1GbE (BMC Management)

AI accelerator:


Hailo-8 processor optimized for media stream density and quality
Execution Units – 256
Render Slices – 4
Graphics Max Dynamic Clock – 1950 MHz
Graphics Base Clock – 1600 MHz
Memory Size – 12 GB

I/O:

2x USB3/2
Console: Cisco RS232 RJ45

PCIe Expansion:

x16 PCIe Gen4 Full Height, ¾ Length Card
x8 PCIe Gen3 Half Height, Half Length Card

Cellular (Optional card)

Supports optional wireless modules (4G and 5G options)
Antenna access through extender

TimeSync (Optional card)

External SMA source inputs are 10MHz, PPS, and GNSS/GPS
External SMA outputs are 10MHz and PPS

BMC:

AST2620 (no video, option for extended temperature)
NCSI to CPU for optional in-band management
Thermal monitor/fan control (up to 7)
Remote updates
Remote Power Management
Virtual USB
Serial over LAN

Security:

TPM2.0
Hardware Root of Trust
Intrusion switch

Other:

Power / Reset Buttons (programmable)
RGB LED's

BIOS:

UEFI BIOS (Consider open-source solution)
Optional Redundant BIOS

Power Supply:

Redundant 500W Pluggable Power Supply
AC and DC Options

Environmental:

Commercial SKU: 0C to 40C
Industrial SKU: -20C to 65C

Form Factor:

12 inches (305mm) Depth
19" Rackmount
Marbella AI-H
Edge AI Analytics Product powered by Hailo-8™
| | | |
| --- | --- | --- |
| P/N | Description |  Notes: |
| 80500-0217-G02-SL01A | Marbella 10C 64G, NVMe Hailo-8, 2xAC USA |   |