SETAC | a New Concept for Networking Appliances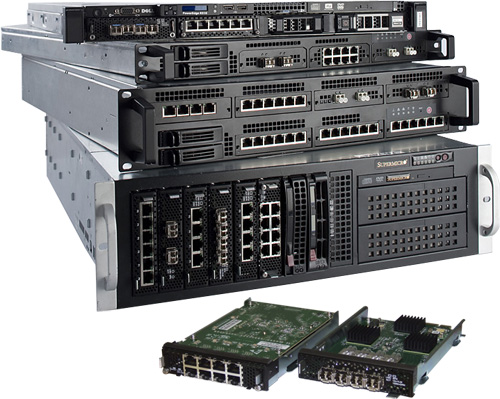 SETAC (server to appliance converter) is Silicom's revolutionary concept for the creation of a new generation of customized network appliances characterized by maximum flexibility, maximum serviceability and maximum reliability – all without compromising on the latest developments in chip technologies.
The SETAC accomplishes these goals through the use of a standard branded server, which offers superior reliability but limited flexibility – but outfitting them with drawer-like, modular units which enable front-end connectivity and other flexible features previously available only through the use of less reliable network appliances. As such, the use of SETAC kits enables the best of the standard server and network appliance worlds, using a branded server as the basis for a customized appliance.
A number of leading hardware manufacturers are now using Silicom's SETAC as the basis for some of their advanced network appliances.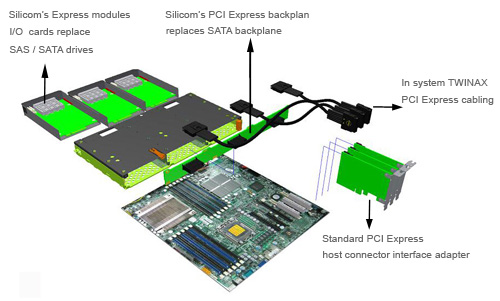 Key Features:
Appliance "look & feel"
Front connectivity
Server grade reliability
Timely support for latest chip sets generations
Based on standard servers with front HD trays
Based on standard and customized servers chassis
Based on Silicom pluggable Express Modules
Field replaceable modules – Reseller, Distributor or local branch, can replace Express Module without opening server chassis
Backplane supports both Silicom Express Module and hot-swap HD
Based on standard PCI-SIG specifications
PCI Express – Express Module Electromechanical Specification Revision 1.0 (2.0)
PCI Express External Cabling Specification Revision 1.0 (2.0)
PCI Express bit rate of 5Gb/s GEN2 (with consideration for future bit rate)
Targeted to Nehalem-based platforms
Currently available with Supermicro and Dell platforms. Roadmap includes IBM, Intel and Tyan platforms as well
Based on embedded solutions – up to 7 year product life cycle
Patent No. 8,199,523 entitled "Server-Based Network Appliance"
SETAC – Approach to Building Network Appliances
 

Standard Server


Generic hardware

Hardware Appliance


Proprietary design

SETAC


Combines the advantages of both

Branded server?


Does it offer server grade reliability?

YES

NO

YES

Modular?


Can it be configured in the field?
NO

YES

YES

Front connectivity?


Can network cables be connected to the front of the network appliance?
NO

YES

YES

Flexibility?


Does it offer a variety of motherboards configurations?

HIGH

LOW

HIGH

Time to market?

SHORT

LONG

SHORT
SETAC is a unique modular solution that can be implemented with virtually any server on the market.
Listed below are several examples of SETAC configurations that we can offer currently on an off-the-shelf basis. For all other servers from ANY server vendor, we would be delighted to work together with you to define a solution that precisely meets your requirements.