2U Pyramid SETAC
2U SETAC Appliance Pyramid based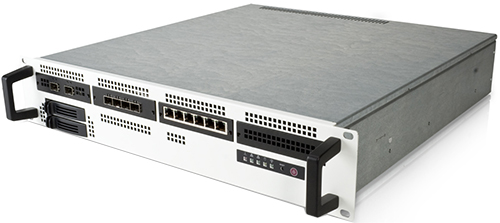 NetFlex ELX Server Family: Pyramid Information
Pyramid's NetFlex ELX family is an appliance platform, covering virtually every imaginable application from a simple 1U Webserver to 2U and 3U enterprise appliances.
Identical materials and dimensions ensure a consistent harmonious appearance. Printed logos or individual color schemes offer the real appliance look and feel.
NetFlex ELX is tailored to support Silicom SETAC modules, enabling the ultra-simple integration of high-performance, front-access network solutions.
Various options, for mixed integration also, like 1GbE, 10GbE, Copper, Fiber and Bypass modules exist.
NetFlex ELX supports also 8-port Setac modules and offers the widest port variability on the market.
SETAC modules can be exchanged quickly and easily using an ejection lever.
2U Pyramid SETAC
2U SETAC Appliance Pyramid based
Key Features:
Complete family of appliance platforms from 1U to 3U
Full integration of SETAC-technology (even 8-port modules)
Free choice of mainboard manufacturer and form factor (µATX to eATX)
Solution with the maximum port density on the market
Co-ordinated chassis design and dimensions
2U Pyramid SETAC
2U SETAC Appliance Pyramid based
General Technical Specifications


NetFlex ELX 2U
Specifications
Material
Steel
Front bezel
Steel
Dimensions (WxHxD)
483x 88 x 458mm (short), 483 x 88 x 633mm (long)
Type
2U Rackmount
Branding
Free styling of frontbezel
Power Supply
single, hot-plug redundant
Mainboard
mini-ITX, ATX, eATX (long version only)
Front modules
max.8
Front options
LED, LCD, DVD, USB, 2.5″- mobile rack, max 7 x SETAC (Front NICs), card reader 3.5″-slot
Expansion Slots
7 x PCI/PCI-E Low Profile or 3 x standard PCI-PCI-E
Cooling
3 x 80mm fans PWM
Optional accessory
SD card reader (zero conf), changeable dust filter, 80mm fans, telescopics rails, SETAC modules (up to 8-Ports per Module – GbE, 10GbE, Fiber, Bypass…)
2U Pyramid SETAC
2U SETAC Appliance Pyramid based
| | |
| --- | --- |
| P/N | Description |
| FGPYVARIOF20005 | NetFlex ELX 2U short (ATX) |
| FGPYVARIOF20006 | NetFlex ELX 2U long (eATX) |