S3A2U3-A2 Connectors Interface Adapter
2U & 3U PCI Express x16 Gen 3.0 Host Connector to Two TWINAX Connectors Interface Adapter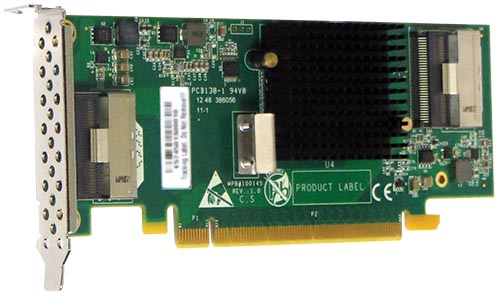 The Silicom SETAC is a solution that converts a standard server to a network appliance.
Front system I/O ports
I/O modules can be replaced without opening the server chassis
Higher ports density than a standard server
More reliable solution than a standard PCI Express NIC
SETAC Network appliances are based on standard server with front hot-swap HD.
The SETAC Network appliance includes SETAC backplane that replaces a server HD backplane.
In a standard server, a HD backplane supports only SAS / SATA technology – Silicom SETAC backplane supports PCI Express and SAS / SATA technology.
Silicom SETAC solution based on Silicom ExpressModule cards, providing widest networking and Bypass solution. The Silicom' s S3A2U3-A2 is Express x16 Gen 3.0 Host Connector to Two TWINAX Connectors Interface Adapter
S3A2U3-A2 Connectors Interface Adapter
2U & 3U PCI Express x16 Gen 3.0 Host Connector to Two TWINAX Connectors Interface Adapter
Performance Features:
Based on server grade reliability
Leverage the price / performance / reliability of standard server
Maximize the I/O ports and interfaces
Field replaceable – End user can change the configuration without opening of sever chassis
High quantity of various configurations can be efficiently handled and final configuration can be done just before shipment
Server and IO module flexibility:
Based on standard server
Based on Silicom ExpressModule cards
Simpler maintenance – Components can be replaced quickly and assuredly
Reliable solution:
Based on current SATA backplane
Better than SATA cables
Better than standard add-in PCI form factor
Based on embedded solutions –Up to 5 years product life cycle
Host Interface:
Host Interface standard support PCI Express 3.0 (8Gb/s)
PCI Express X16 lanes
Signaling and interface based on PCI-Express EM standard (PCI-SIG) ver. 3.0 (8.0 GT/s)
PCI-E EM Backplane replacing HD Backplane
PCI Express ExpressModule Electromechanical Specification Revision 1.0 (2.0)
PCI Express External Cabling Specification Revision 1.0 (2.0)
PCI Express External Cabling Specification 2.0 Revision 0.3 RC2
S3A2U3-A2 Connectors Interface Adapter
2U & 3U PCI Express x16 Gen 3.0 Host Connector to Two TWINAX Connectors Interface Adapter
General Technical Specifications

Size:
6.6"x 2.535" (167.64mm x 64.389mm)
PCI Express Card Type:
X16 Lane
Voltage:
+12V (Min 11.04V, Max, 12.96V)
Holder:
Metal Bracket
Weight:
90gr (3.175 oz)
Power Consumption:
3W, 0.25A at 12V: Typical Idle
9.12W, 0.76A at 12V: Typical one slot
9.6W, 0.8A at 12V: Typical two slot
Operating Humidity:
0%–90%, non-condensing
Operating Temperature:
0°C – 50°C (32°F – 122°F)
Storage Temperature:
-20°C–65°C (-4°F–149°F)
EMC Certifications:
Class B
MTBF*:
177(Years)
*According to Telcordia SR-332 Issue 1
Environmental condition – GB (Ground, Fixed, Controlled). Ambient temperature – 25°C. Temperature rise of 15°C above the system ambient temperature was assumed for the cards components

Connector Specifications

Connectors:
(2) iPass Connector
S3A2U3-A2 Connectors Interface Adapter
2U & 3U PCI Express x16 Gen 3.0 Host Connector to Two TWINAX Connectors Interface Adapter
P/N

Description

Notes

S3A2U3-A2
2U PCI Express Gen 3.0 x16 Host Connector to Two TWINAX Connectors Interface Adapter (with power to backplane)
PCI Express Gen 3.0 x16 Host Connector
Assembled with Low Profile Metal Bracket
S3A3U3-A2
3U PCI Express Gen 3.0 x16 Host Connector to Two TWINAX Connectors Interface Adapter (with power to backplane)
PCI Express Gen 3.0 x16 Host Connector
Assembled with full height Metal Bracket
Model P/N -LP /
-LP: Assemble Low Profile Metal Bracket
1V2