10G Ethernet transceivers SL-SFP+10G-SR
Small Form Factor Pluggable (SFP+) transceivers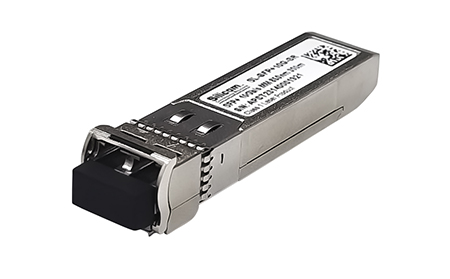 Silicom's SL-SFP+10G-SR 10Gigabit Ethernet Transceiver
Silicom's SL-SFP+10G-SR transceivers, designed in a Small Form Factor Pluggable (SFP+) format, ensure smooth connectivity for network interface cards (NICs) in a network. These transceivers are highly compatible with industry standards like SFF-8431, SFF-8432, and support 10G Ethernet SR and 10G Fiber Channel.
The SL-SFP+10G-SR transceivers are specially designed for 10G-Gigabit multi-rate links, ensuring reliable data transmission over distances of up to 300 meters of OM3 fiber. These transceivers use an uncooled 850nm VCSEL laser, which guarantees high-performance optical signal transmission.
The SL-SFP+10G-SR transceivers include digital diagnostic functions that are accessible through a 2-wire serial interface, as defined in SFF-8472. This feature enables real-time monitoring and management of essential parameters, thereby improving network visibility and troubleshooting capabilities.
The SL-SFP+10G-SR transceivers boast key features such as a duplex LC connector, ensuring easy and reliable fiber optic cable connections. These transceivers are hot-pluggable and designed to fit into a standard SFP footprint, making installation and replacement a breeze.
In addition, Silicom's transceivers comply with RoHS (Restriction of Hazardous Substances) regulations and are lead-free, promoting environmental sustainability. The metal enclosure of these transceivers effectively minimizes electromagnetic interference (EMI), ensuring stable and interference-free network operations.
The SL-SFP+10G-SR transceivers have low power dissipation, consuming less than 1.0W of power during operation. Furthermore, these transceivers provide the flexibility of commercial operating temperature options, enabling them to function optimally in a broad range of environmental conditions.
The Silicom SL-SFP+10G-SR transceivers provide dependable and high-performance connectivity solutions for network infrastructure, supporting 10G Ethernet SR and 10G Fibre Channel applications. These transceivers comply with industry standards, boast advanced digital diagnostics, and offer key features such as low power consumption and EMI reduction, making them an efficient and robust solution for NIC connectivity within networks.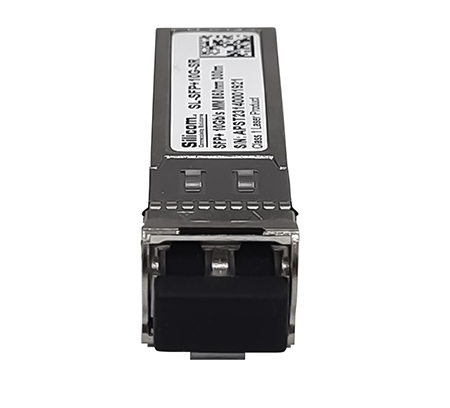 10G Ethernet transceivers SL-SFP+10G-SR
Small Form Factor Pluggable (SFP+) transceivers
Duplex LC connector
Hot-pluggable SFP footprint
Uncooled 850nm VCSEL laser
RoHS compliant and Lead Free
Distance up to 300m on 50/125um MMF
Metal enclosure for lower EMI
Low power dissipation <1.0W
Commercial operating temperature optional
SFP MSA SFF-8472 SFF-8431 SFF-8432 Compliant
10G Ethernet transceivers SL-SFP+10G-SR
Small Form Factor Pluggable (SFP+) transceivers
| | | |
| --- | --- | --- |
| P/N | Description | Notes |
| SL-SFP+10G-SR | 10.3Gb/s SFP+ Transceiver |   |