fb4G@V6130 FPGA Card
Quad Port SFP Gigabit Ethernet PCI Express FPGA Card
The fb4G@V6130 is a high performance OEM hardware platform for 1G Ethernet with quad port SFP network interface.
The standard configuration is based on Xilinx Virtex6 LX130T FPGA. The card is also offered with a variety of different FPGAs to provide flexibility for the intended application.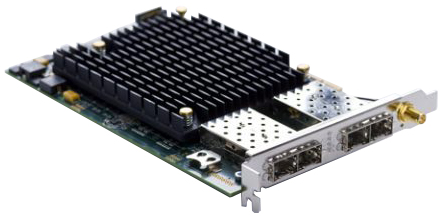 As an optional feature, the card can be fitted with two SATA connectors which can provide connectivity to a wide range of standard storage devices directly to the FPGA card.
fb4G@V6130 FPGA Card
Quad Port SFP Gigabit Ethernet PCI Express FPGA Card
Host Interface:
Physical bus connector: 8-lane PCIe
PCIe bus type: 1-8 lane PCIe Gen1/Gen2
Network Interface:
IEEE standard: IEEE 802.3 1 Gbit/s Ethernet
Physical interface: 4 SFP ports.
Supported SFP modules: Multimode SR (850 nm), singlemode LR (1310 nm), multimode LRM (1310 nm), singlemode ER (1550 nm) or Direct Attached Copper (Twinax)
Data rate: 4 x 1 Gbit/s
Configuration:
16 bit fast parallel programming interface from supporting preprogrammed controller
Configuration flash supports two boot images with automatic fallback to fail safe image if first image fails
Support for encrypted FPGA bit file (optional)
Upload of FPGA configuration to flash via PCIe
fb4G@V6130 FPGA Card
Quad Port SFP Gigabit Ethernet PCI Express FPGA Card
General Technical Specifications

On Board Memory:
2 x 64 bit DDR3@1066MT/s 2GB (total 4GB memory)
1 MB user configurable space in flash for permanent storage
On Boar Clocks:
PCIe clock: 100MHz
25 MHz oscillator
125 MHz oscillator
150 MHz oscillator for SATA connector (optional)
FPGA:
fb4G@V6130: Xilinx Virtex6 LX130T-2
fb4G@V6240: Xilinx Virtex6 LX240T-2
Xilinx Virtex6 LX365T (optional)
Xilinx Virtex6 LX195T (optional)
Xilinx Virtex6 SX315T (optional)
Xilinx Virtex6 SX475T (optional)

Environment:

Physical dimensions:
half length, standard height PCIe
Power consumption:
less than 7 Watts with uninitialized FPGA
Operating temperature:
0 – 55 °C, 32 – 131 °F
Operating humidity:
20 – 80%
Hardware compliance:
RoHS, CE
Passive cooling:
no on-board fan required
Active cooling:
optional
Additional Board Support:
On board temperature sensor
Board status LED
3 user configurable dual color LED
FPGA controlled Link and Activity LED for each port
PPS clock synchronization connector
2 x SATA connector (optional)
Additional Intellectual Property Support:
Flash configuration I/F
DDR3 memory controller
8 lane PCIe
MDIO controller (optional)
Ethernet MAC (optional)
I2C controller (optional)
SPI master I/F (optional)
TCP-offload engine (optional)
fb4G@V6130 FPGA Card
Quad Port SFP Gigabit Ethernet PCI Express FPGA Card
| | | |
| --- | --- | --- |
| P/N | Description | Notes |
| fb4G@V6130 | Quad port SFP card supporting 1G Ethernet, PCIe Gen2 x8 lanes | RoHS Compliant |
1V0