Silicom N5110A SmartNIC Intel® based
Server SmartNIC with Advanced Computing and 100Gbps Network Switching
The N5110A PCIe SmartNIC is a full length PCIe single-slot card offering extreme compute performance and wire speed network switching via an onboard Intel Atom P5900 processor and Intel Stratix 10 FPGA.
The unique combination of a CPU and a switch provides great performance for applications with extensive packet processing requirements. The N5110A is used with data center or edge servers to offload and accelerate a wide variety of packet-oriented applications from the host processor. Some key applications include data security such as firewalls or deep packet inspection, User Plane Functionality (UPF) for 5G networking and open vSwitch (OVS) processing for network functions virtualization.

The Intel Atom P5900 offers 20 X86 cores, and an embedded Ethernet switch that is configured with 2 x100GbE QSFP28 backbone connections and 8 x25GbE internal ports connecting to the FPGA. The SoC supports Intel QuickAssist Technology (Intel QAT) that provides up to 100 Gbps security encryption/decryption performance.
The N5110A PCIe SmartNIC also features an Intel Stratix® 10 MX FPGA for acceleration of complex data workloads. The performance of the card provides extensive data processing with very low "bump in the wire" latency. Data centers or service providers can use the card to offload any application from a server. Application developers can package their application with the card as a purpose-built module for security, UPF or other functionality.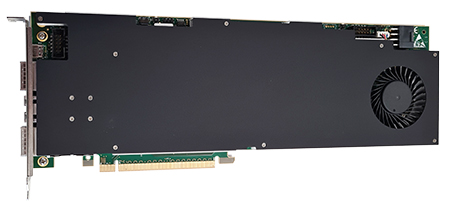 Silicom N5110A SmartNIC Intel® based
Server SmartNIC with Advanced Computing and 100Gbps Network Switching
General Technical Specifications:

SoC BIOS&FW Flash:
QSPI Flash Device
Operating System:
Linux
SoC Memory:
Two Channels, 4x DDR4 Memory Down, 1xECC Support, 2400 MT/s per channel, total 10 devices
SoC Storage:

eMMC on board device, 64GB
M.2 M-key connector to support PCIe/SSD/SATA module size 2242, single side

Ethernet Ports:

2 x100GbE QSFP28 to/from SNR
8 x25GbE internal ports SNR to/from FPGA

PCIe SoC Interface:

PCIe x16 Gen3 FPGA (EP)
PCIe x4 Gen2 M.2 (EP)
PCIe x1 Gen1 i210
PCIe x16 Host (RP) and FPGA (EP)

SoC Mgmt and Debug Port:
On board Ethernet Controller i210 and RJ45 MagJack+LED
Debug Serial Console:
On board Headers RS232 for SoC and BMC device
USB 2.0/3.0 Ports:

1x USB 3.0/2.0 Connector Type C on Board for debug
1x USB 2.0 Internal connection between SoC and BMC

FPGAs:

Stratix 10 MX HBM2, P/N: 1SM21CHU2F53E2VG
MAX10

FPGA MAX10 Image:
Silicom image will support download/upgrade FPGA FW via Avalon-STx8
BMC:
MCU, P/N: EFM32GG11B420F2048GL112-B
BMC Image:
Silicom image to support board level management and secure boot loader
FRU I2C EEPROM:

FRU SoC
FRU BMC (optional)

Button:
Reset Button for SoC
LEDs on Board:

1x Yellow Color active on any case of trip alarm
1x Green Color, active when all power on board are Good
1x Red Color, Reset Status indication
1x Yellow from GPIO BMC, activate by software
2x Green Color, from MAX10
The LEDs will be located on top edge of the board

Other Hardware Devices and Interfaces:

SuperCap for RTC and clear CMOS jumper
Programmable FAN controller
Avalon-ST 8bit interface to FPGA
2x NOR Flash 512Mb, Parallel x16
Power sequencer device
Programable clock device

Debug Connectors:

JTAG Headers for SoC, FPGA and MAX10
MIPI 60 pin connector for XDP Intel tool (Merged JTAG connections)
USB3/2 Type C connector (DCI)
Header Programming and UART debug interface for BMC
Header for DediProg programmer

Form Factor:
PCIe Full Length 12", Single slot, x16 Lanes
Holder:
Full Hight Metal Bracket to support 2xQSFP28 cages RJ45 connector and USB Type C connector
Power:
12V power source from PCIe connector and from auxiliary PCIe connector
Power Consumption:
Maximum: 175W Estimated not Final
The total power consumption of the card depends on user application
Cooling:

Active heat sink with FAN connection to 4 pins connector
Optional passive heat sink – with limited power dissipation

Sensors/Monitors:

Thermal shutdown protection (hardware solution)
Critical error detection from SoC
Voltage and Thermal monitors
Current input protection

Operating Temperature:
0°C – 50°C (32°F – 122°F)
Storage Temperature:
-40°C–65°C (-40°F–149°F)
Regulation:
EC Class A
FCC Class A
Compliance with European directives for EMC, Low Voltage, RoHS and WEEE
EMC-Compliance and test report for ETSI ES 201 468 Level2, EN55022, EN55024, EN 300 386
Safety: compliance and test report for EN 60950-1
Silicom N5110A SmartNIC Intel® based
Server SmartNIC with Advanced Computing and 100Gbps Network Switching
| | | |
| --- | --- | --- |
| P/N | Description | Notes |
| PE3CG2IC51SA-XR | SmartNIC PCIe x16, with Intel Snow-Ridge SoC and Stratix 10 MX |   |
1V1