FB2CG@S10GX2100 FPGA Card
Dual port QSFP28 200 Gigabit Ethernet, PCIe Gen3 x16 Intel® Stratix 10GX Based
The FB2CG@S10GX2100 is a high performance OEM FPGA hardware platform intended for 10/25/40/100 GbE with dual port QSFP28 network interface.
The standard configuration is based on Intel® Stratix 10GX FPGA. The card is also offered with a variety of different FPGAs and memory configurations to provide flexibility for the intended application.
The FB2CG@S10GX2100 is capable as PCIe Gen3 x16 or Gen4 x8 and 200G board to board capability (FireFly).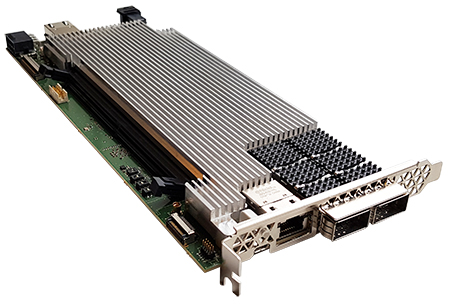 The FB2CG@S10GX2100 is targeted rot network applications such as Data center and Cloud computing, high performance computing, military and defense, finance, broadcast and video.
For more options on alternate hardware configuration see ordering information or contact Silicom.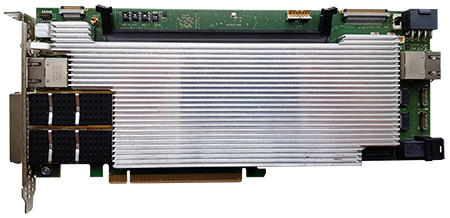 FB2CG@S10GX2100 FPGA Card
Dual port QSFP28 200 Gigabit Ethernet, PCIe Gen3 x16 Intel® Stratix 10GX Based
Full height PCIe board using Intel® Stratix 10GX or SX 2100 KLE
Designed for acceleration and low latency applications
PCIe Gen3 x16, Gen4 x8 capable
2 independent banks on board DDR4
2 independent banks on board QDR2+Xtrem
1 RDIMM Memory expansion connector
Dual QSFP28 optical cages, 10/25/40/100 GbE ports
200G board to board capability (FireFly)
Board management controller (BMC) with IPMI features
IO and transceiver extension connectors
FB2CG@S10GX2100 FPGA Card
Dual port QSFP28 200 Gigabit Ethernet, PCIe Gen3 x16 Intel® Stratix 10GX Based
Network Interface:

IEEE standard:
High precision oscillator, clock accuracy 20MHz- 0.05ppm for
Precision Time Protocol (PTP) IEEE 1588
Physical interface:
2x QSFP28 quad optical cage (2 x 4 XCVR : 17 Gb/s or 28 Gb/s per link)
2x FireFly SAMTEC quad connector (17 Gb/s or 28Gb/s each XCVR)
- 1 FireFly connected to 100G IP
Host interface:
Board Management Controller (BMC) for monitoring, EPCQ and
clock programming, IPMI features

Communication Interface:

PCIe bus type:
PCI Gen3 x16 (Gen4 x8 capable)

On Board Memory:

On Board Memory:
1x bank VLP RDIMM 25° socket with the option of


DDR4 16GBytes, x72bit, up to 2400 MT/s
1x bank QDR2+Xtrem 2 chips 72Mbit, x36bit, up to 633MHz
Custom RDIMM on request

1x bank DDR4, 16GBytes, x72bit, up to 2400MT/s
1x bank DDR4, 8GBytes, x72bit, up to 2400MT/s (HPS bank mutual with FPGA)
2x banks QDRII+ Xtrem 72Mbit each x18bit, up to 633MHz

Environment:

Physical dimensions:
254mm x 111.15mm
Weight:
0°C to 40°C
Storage Temp Range:
0°C to 70°C
Power:

Max 240W, Delivered with a custom 1 slot PCIe passive heat-sink
8-pin ATX Power supply connector with Oring protection

General Technical Specifications:

FPGA Configurations:

Stratix 10 GX, L-tile and H-tile compatible
10M16SAU169I7G MAX10 CPLD
USB2.0 Micro connector for JTAG, UART and BMC design
1x Nor Flash 1GB quad SPI FPGA AS configuration
1x Nor Flash 1GB for configuration mode ST8

Additional Card Support:
Board Support Package (Manuals, HDL test Designs, Extension connectors FPGA pinout connection)

General Technical Specifications:

Operating system support:

Kernel Linux support, U-boot bootloader and comprehensive user documentation
Operating System Support (Software package support for DDR4 SDRAM, eMMC flash, Quad SPI flash, USB host, Gigabit Ethernet, U-boot bootloader and comprehensive user documentation)
FB2CG@S10GX2100 FPGA Card
Dual port QSFP28 200 Gigabit Ethernet, PCIe Gen3 x16 Intel® Stratix 10GX Based
P/N

Description

Notes

FB2CG@S10GX2100-2-0-P
FPGA Intel® Stratix 10 GX 2100 «Turbo L-Tile» version, No RDIMM module, Passive cooled

RoHS/REACH Compliant
UL certified
ISO9001 Facility
1V0