FB1C1XLG@A10T1150E Programmable PCIe NIC
Programmable PCI Express Server Adapter Intel® FPGA Arria 10 GX/GT based
The card offered with a variety of different FPGAs to provide flexibility for the intended application. The card is mounted with DDR4 devices running up to 2400MT/s*, total memory 8GB, one device DDR4 1Gbx8 running up to 2400MT/s.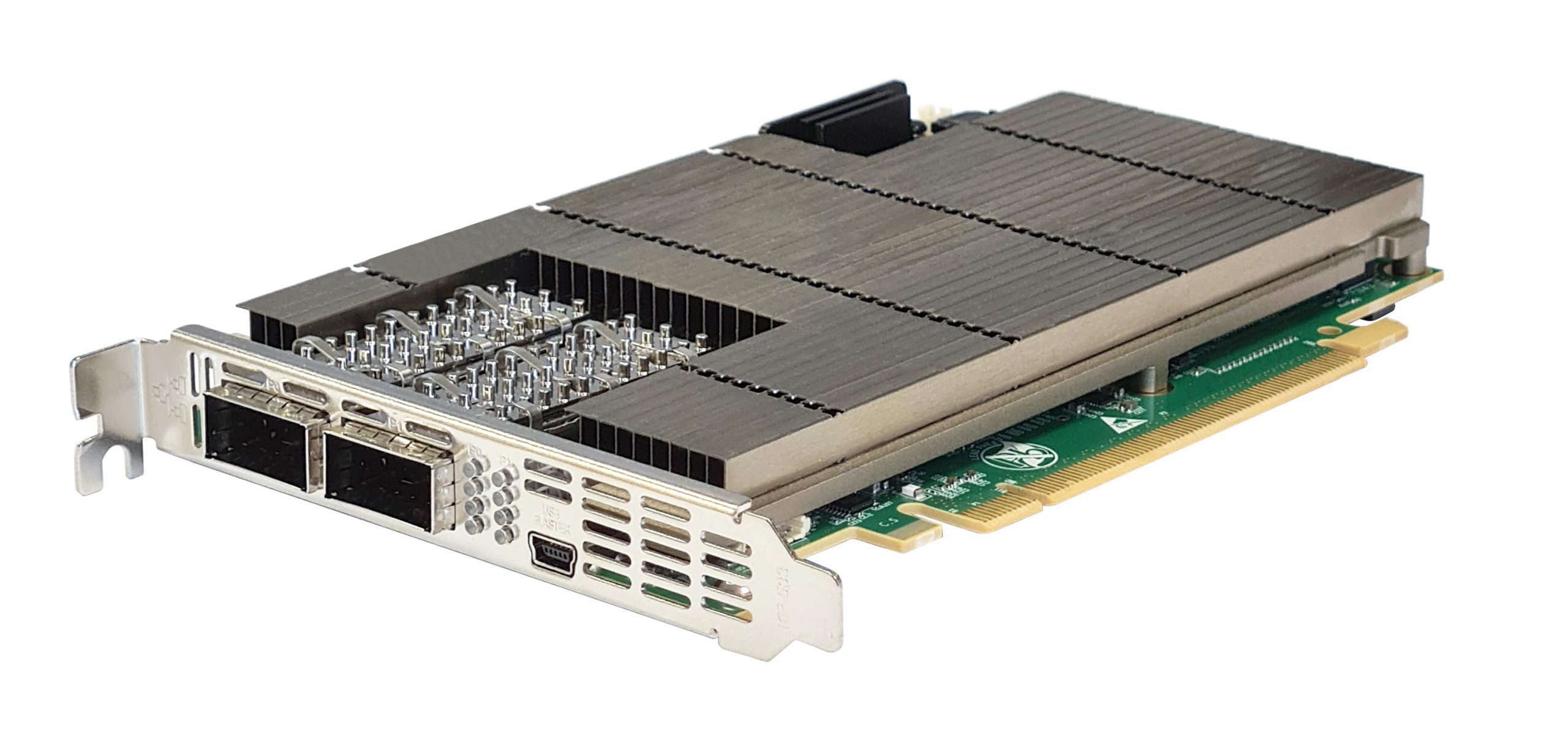 For options on alternate hardware configuration see ordering information.
Cardiff2/E-SKU*
– Does not support QDR-IV
– Supports DDR4 with ECC.
– Support 10G SERDES based only on the QSFP interfaces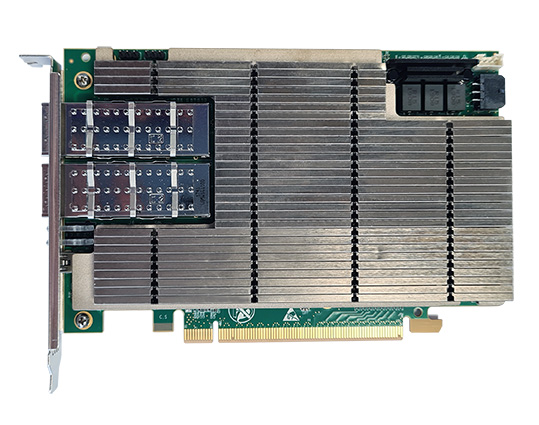 FB1C1XLG@A10T1150E Programmable PCIe NIC
Programmable PCI Express Server Adapter Intel® FPGA Arria 10 GX/GT based
Host Interface:
Physical bus connector: 16-lane PCIe
PCIe bus type: 2 x 1-8 lane PCIe Gen1/Gen2/Gen3 with bifurcation
Fortville Ethernet Network Controller XL710BM2:
Network Virtualization offloads for VXLAN and NVGRE
Unified Networking Providing a single wire for LAN and storage: NAS (SMB, NFS) and SAN (iSCSI, FCoE)
Virtual Bridging Support – VEPA/802.1Qbg, BPE/802.1Qbh
Physical Functions – Up to 8 per port, up to 16 per device
Support for 128 Virtual Device Queues (VMDq) per port
Hardware Queue Pairs – Up to 1.5K (non-RDMA); up to 256K (RDMA)
Virtualization – Alleviating hypervisor I/O bottlenecks by providing flow separation for Virtual Machines (VMs)
Receive Side Scaling (RSS)
Large Send Offload (LSO)
TCP/UDP/IP/SCTP Checksum Offload
IPV4, IPV6
Network Interface:
IEEE standard: IEEE 802.3 10/40 GE
Physical interface: QSFP+
Supported QSFP+ modules: including fan-out modules for 4x10G , Multimode SR4 (850nm), Single Mode LR4 (1310nm), Multimode LRM4 (1310nm), or Direct Attached Copper (Twinax)
Data rate: 8x10 Gbps or 2x40 Gbps
Support Sync-E standard (optional feature depending on FPGA image)
Configuration:
Upload of FPGA configuration to flash via PCIe – with supported image and tool.
USB Blaster II on Board
Serial Configuration EPCQ-L device memory size of 1Gb , using Active Serial x4 configuration mode
On Board Memory:
DDR4


8GByte+ECC on ping pong interface ( x12 devices )
1GByte ,(x1 device)
Board Management:
Voltage level monitoring
Thermal shut-down protection
Over current protection on 12V input
FB1C1XLG@A10T1150E Programmable PCIe NIC
Programmable PCI Express Server Adapter Intel® FPGA Arria 10 GX/GT based
General Technical Specifications Adapters: 

Interface Standard:
PCI-Express Base Specification Revision 3.0 (8 GTs)
Board Size:
Standard height short add-in card 167.65mm X 111.15mm (6.6"X 4.376")
PCI Express Card Type:

x8x8 Lanes Bifurcation 8-Lanes to Arria 10 GT/GX 8-Lanes to XL710

Note: Can be plug only in 16xPCIe slot

PCI Express Voltage:
+12V ± 8% - Limited to 6A
On Board Connector Voltage

+12V ± 8% On board auxiliary power connector to support power over 75W –

*The +12V must be installed when power is over 75W

PCIe Connector:
x16 Lanes
FPGA:
Intel FPGA Arria 10 900/1150 GT or GX · See ordering information about types Arria 10 GX/GT
Ethernet Controller:
Intel Fortville Ethernet Controller XL710-BM2
Memory:
Onboard DDR4*, 2400MT, total memory 9GB + 2GB ECC
Holder:
Metal Bracket
Weight:
350g (12.34oz) With Passive Heat-Sink and without optical modules
Power Consumption:
Maximum 130W Maximum 124W (Without XL710 Fortville device) · The total power consumption of the card is depending on user application
Cooling:

- Passive heat sink, or active heat sink solution

- Built-in thermal protection

Sensors/Monitors:

- Thermal protection

- Voltage monitors

- Current protectio

Operating Temperature:
0°C – 45°C (32°F - 113°F)
Air Flow Requirements:
Passive heat sink, short PCIe, single slot: 600 LFM. @ 40C, Max PCIe card power 100W, Max FPGA Core Current 60A, FPGA Core Temp 90C
Storage:
-40°C–65°C (-40°F–149°F)
Regulation:
CE, FCC Class B, ROHS requirements.
MTBF*:

157 years, passive heat sink,

* According to Telcordia SR-332 Issue 2. Environmental condition – GB (Ground, Fixed, and Controlled). Ambient temperature 50°C

LEDs/ Connectors Specifications:

LEDs:
Each QSFP Ports has 4 LEDs
LEDs location:
LEDs are located on the PCB, indication visible through light pipe.
Connector:

(2) QSFP+ Cages

(1) Auxiliary 12V power supply connector on board

(1) Mini-USB Type B connector located on front of panel for on board USB Blaster II interface

(1) On board right angle JTAG connector 8 pins (custom) for FPGA
FB1C1XLG@A10T1150E Programmable PCIe NIC
Programmable PCI Express Server Adapter Intel® FPGA Arria 10 GX/GT based
P/N

Description

Notes:

FB1C1XLG@A10T1150E
Programmable PCI Express Server Adapter Based on Intel FPGA Arria 10 1150GT, forum factor short size, full height with passive heat sink

PCIe 2x8 Gen 3, mechanical x16 Based on Intel FPGA Arria10 GT1150/ 10AT115S1F45E1SG Passive Heat-Sink. Consists on board: XL710, 13xDDR4, 2xQSFP cages

Generic
2V2