fb1C1XLG@A10 Server Adapter
Programmable PCI Express Server Adapter Based on Intel® FPGA Arria 10 GX/GT
The fb1C1XLG@A10 series is a high performance OEM hardware platform with intended for 10/25/40/100 Gigabit Ethernet via QSFP+ and QSFP28, two PCI Express Gen3 x8 lanes endpoints.
The card based on Intel® FPGA Arria 10 and Ethernet Network Controller Intel® XL710 dual port 40G with all it features as a leading controller in the market.
The card is also offered with a variety of different FPGAs to provide flexibility for the intended application. The card is mounted with 8xDDR4 devices running up to 2400MT/s, total memory 8GB, one device DDR4 1Gbx8 running up to 2400MT/s and one QDR-IV 144Mb density 18 bit data channels, running up to 1066 MHz.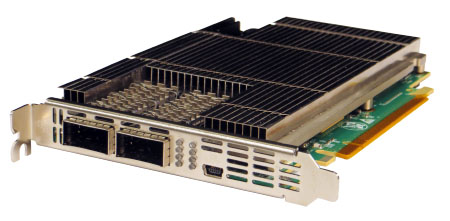 For options on alternate hardware configuration see ordering code.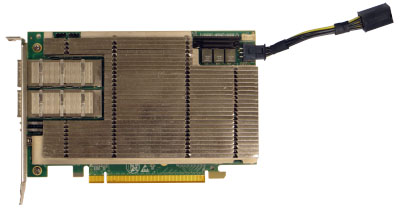 fb1C1XLG@A10 Server Adapter
Programmable PCI Express Server Adapter Based on Intel® FPGA Arria 10 GX/GT
Host Interface:
Physical bus connector: 16-lane PCIe
PCIe bus type: 2 x 1-8 lane PCIe Gen1/Gen2/Gen3 with bifurcation
Network Virtualization offloads for VXLAN and NVGRE
Unified Networking Providing a single wire for LAN and storage: NAS (SMB, NFS) and SAN (iSCSI, FCoE)
Virtual Bridging Support – VEPA/802.1Qbg, BPE/802.1Qbh
Physical Functions – Up to 8 per port, up to 16 per device
Support for 128 Virtual Device Queues (VMDq) per port
Hardware Queue Pairs – Up to 1.5K (non-RDMA); up to 256K (RDMA)
Virtualization – Alleviating hypervisor I/O bottlenecks by providing flow separation for Virtual Machines (VMs)
Receive Side Scaling (RSS)
Large Send Offload (LSO)
TCP/UDP/IP/SCTP Checksum Offload
IPV4, IPV6
Network Interface:
IEEE standard: IEEE 802.3 10/40/25/100 GE
Physical interface: 1xQSFP+, 1xQSFP28
Supported QSFP+/QSFP28 modules: including fan-out modules for 4x10G/4x25GE, Multimode SR4 (850nm), Single Mode LR4 (1310nm), Multimode LRM4 (1310 nm), or Direct Attached Copper (Twinax)
Data rate: 8x10 Gbps, 4x10 Gbps+4x25 (FPGA GT only), Gbps, 2x40 Gbps, 1x40Gbps+1x100Gbps (FPGA GT only)
Support Sync-E standard (optional feature depending on FPGA image)
Configuration:
Upload of FPGA configuration to flash via PCIe
USB Blaster II on Board
Serial Configuration EPCQ-L device memory size of 1Gb , using Active Serial x4 configuration mode
On Board Memory:
DDR4 – 9 x devices on board of 8Gbx16 each DDR4 device, running up to 2400MT/s
QDRIV- 1x device 144Mb density 18 bit data channels, running up to 1066 MHz
Board Management:
Voltage level monitoring
Thermal shut-down protection
Over current protection on 12V input
fb1C1XLG@A10 Server Adapter
Programmable PCI Express Server Adapter Based on Intel® FPGA Arria 10 GX/GT
General Technical Specifications:

Interface Standard:
PCI-Express Base Specification Revision 3.0 (8 GTs)
Board Size:
Standard height short add-in card 167.65mm X 111.15mm (6.6"X 4.376")
PCI Express Card Type:

x8x8 Lanes Bifurcation
8-Lanes to Arria 10 GT/GX
8-Lanes to XL710

Note: Can be plug only in 16xPCIe slot

PCI Express Voltage:
+12V ± 8%
On Board Connector Voltage
+12V ± 8%
On board auxiliary power connector to support power over 75W
PCIe Connector:
x16 Lanes
FPGA:
Intel® FPGA Arria 10 900/1150 GT or GX
• See ordering information about types Arria 10 GX/GT
Ethernet Controller:
Intel® Ethernet Controller XL710-BM2
Memory:
Onboard DDR4, 2400MT, total memory 8GB
Onboard QDR-IV, 2132MT, 144Mb (4Mx36)
Holder:
Metal Bracket
Weight:
350g (12.34oz) With Passive Heat-Sink and without optical modules
Power Consumption:
Maximum 130W
Maximum 124W (Without Intel®XL710 device)
• The total power consumption of the card is depend on user application
Cooling:
- Passive heat sink or active heat sink solution
- Built-in thermal protection
Sensors/Monitors:
- Thermal protection
- Voltage monitors
- Current protection
Operating Temperature:
0°C – 45°C (32°F - 113°F)
Air Flow Requirements:
• Depend on type of heat sink and user application
Storage:
-40°C–65°C (-40°F–149°F)
Regulation:
CE, FCC Class B, ROHS 2 requirements.

Leds:

LEDs:
Each QSFP Ports has 4 LEDs
LEDs location:
LEDs are located on the PCB, indication visible through light pipe
Connectors:
(2) QSFP28 Cages
(1) Auxiliary 12V power supply connector on board
(1) Mini-USB Type B connector, located on front of panel for on board USB Blaster II interface
(1) On board right angle JTAG connector 8 pins (custom) for FPGA
Main Blocks Diagram: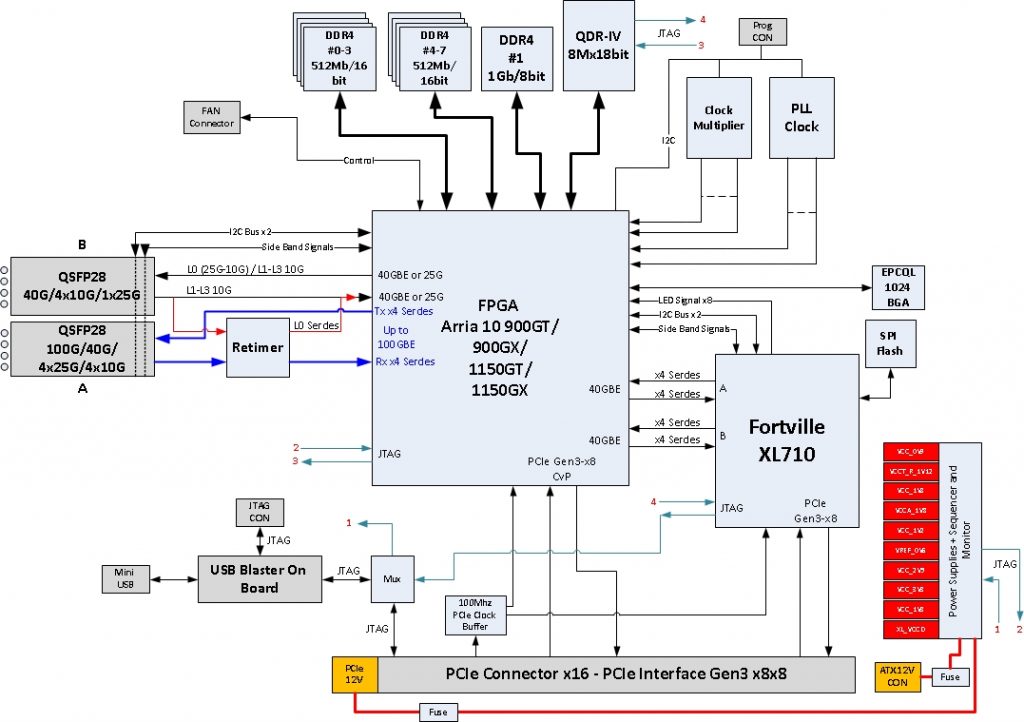 fb1C1XLG@A10 Server Adapter
Programmable PCI Express Server Adapter Based on Intel® FPGA Arria 10 GX/GT
| | | |
| --- | --- | --- |
| P/N | Description | Notes |
| fb1C1XLG@ | Programmable PCI Express Server Adapter Based on Intel FPGA Arria 10 GX/GT |   |
1V1