A10GX FPGA Server Adapter
Programmable PCI Express Server Adapter Based on Intel® PSG FPGA Arria 10 GX
The Silicom Dover A10GX FPGA Server Adapter leverages an Intel® Arria® 10GX FPGA to provide the compute performance needed for advanced security functions at wire speed. Protecting the data center or telecom network from malware and hacking attempts requires both deep packet inspection (DPI) and pattern recognition – both of which can take significant cycles from a server CPU, Dover card based on Intel A10 FPGA was designed to accelerate the range of security workloads in Xeon based servers.
With dual 40GbE QSFP+ ports, one model of the server adapter offers accelerated pattern matching capabilities which boost performance for IPSEC, VPN, firewalls and other security applications. The half-height card can fit in a 1U server or can be double stacked in a 2U server for additional 40GbE ports. The adapter supports PCIe 3×16 interfaces for fast data interconnect.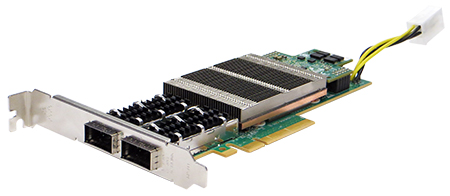 Processing for the card comes from the Intel® Arria® 10GX FPGA a high-performance and power-efficient 20 nm FPGA. Intel Arria 10GX delivers up to 96 full-duplex transceivers with data rates up to 17.4 Gbps chip-to-chip, 12.5 Gbps backplane, and up to 1,150K equivalent logic elements (LEs). The FPGA features a comprehensive set of power-saving technologies for power efficiency.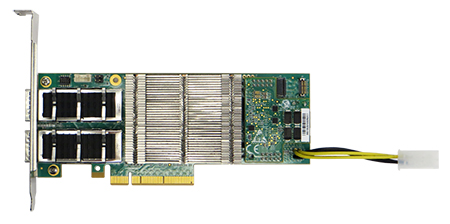 A10GX FPGA Server Adapter
Programmable PCI Express Server Adapter Based on Intel® PSG FPGA Arria 10 GX
General Technical Specifications:

Interface Standard:
PCI-Express Base Specification Revision 3.0 (8 GTs)
Board Size:
Low profile short add-in card:
167.64mm X 68.91mm (6.600"X 2.713")
PCI Express Card Type:
X8 Lane
On Board Connector Voltage:
+12V +/-8% , optional external connector 2x3 pins
PCIe Connector:
X8 Lane
FPGA:
Intel PSG 10AX066H2F34E2SG (660K logic elements)
Intel PSG 10AX027H3F34E2SG (270K logic elements)
• See detailed in ordering information
BMC:
TI MSP432
Power controller,
Temp sensors,
Fan speed,
I2C
Memory:
Onboard DDR4, 1200Mhz, total memory 4GB
5 x DDR memory down + ECC (1GB)
Holder:
Metal Bracket
Power Consumption:
Chipset (without transceivers): Max 44.35W (660K)
Chipset (without transceivers): Max 44.11W (270K)
Operating Temperature:
0°C – 45°C (32°F - 113°F)
Storage:
-40°C–65°C (-40°F–149°F)
Regulation:
CE, FCC Class B, ROHS requirements

Leds:

LEDs:
Link/Act: Turns on Green, Blink on Activity
(KINGBRIGHT, P/N KPHB-1608CGKSYKC, or compatible. λd : 574 nm)
Speed 40G: Turns on Green
(KINGBRIGHT, P/N KPHB-1608CGKSYKC, or compatible. λd : 574 nm)
LEDs location:
LED is located on the PCB, visible via light pipe in the metal bracket holder
Connectors:
(2) QSFP+ cage: MOLEX, P/N 75586-0010, or compatible.
(1) FireFly SAMTECH quad connector
A10GX FPGA Server Adapter
Programmable PCI Express Server Adapter Based on Intel® PSG FPGA Arria 10 GX
P/N

Description

Notes

A10GX660-2-P
PCIe Gen 3 Server Adapter base on Arria10 GX 660
X8 Gen3, Low Profile, based on Intel PSG 10AX066H2F34E2SG
(660K logic elements)
2 x QSFP+, Firefly
1 bank DDR4, 4GB, with ECC.
RoHS compliant
A10GX270-3-P
PCIe Gen 3 Server Adapter base on Arria10 GX 270
X8 Gen3, Low Profile, Based on Intel PSG
10AX027H3F34E2SG
(270K logic elements).
H – 24TR.
3 – TRs speed grade 11.3 Gbps
E Extended Temp.
2 Fabric speed
G Rohs6
Without QSFP+ ports. Without Firerfly connecter, No DDR,
RoHS compliant
1V7