STS3 P425G8TS81 TimeSync Card
8 Ports 25 Gigabit Ethernet Grand Master, Boundary Clock, Slave Clock, PCIe GEN4 TimeSync card
Silicom's P425G8TS81: The Ultimate TimeSync Card STS3 for 25/10 Gigabit Ethernet PCI Express Grand Master TimeSync Server Adapter
Silicom's P425G8TS81 TimeSync Card STS3 25/10 Gigabit Ethernet PCI Express Grand Master TimeSync server adapter adds TimeSync/GM ability to server /mobile DU systems.
The Silicom P425G8TS81 TimeSync Card STS3 NIC is based on Intel E810 NIC controllers and Microchip / servo PLL.
Silicom's STS3 Support 8 port of 25G/10G capabilities to synchronize host system with external clock source using 1PPS and 10MHz. The STS3 TimeSync server adapter support both 1588v2/PTP and SyncE for high clock accuracy in Master and Slave mode. STS3 design is meeting O-RAN requirements for LLS-C1, LLS-C2 and LLS-C3, modes of operations with both Boundary and Transparent clocks.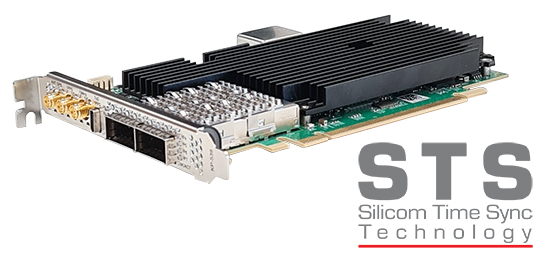 Real-time data transmission for 5G with Silicom STS line card: A low-cost solution with high timing accuracy
Silicom STS line card for 4G and 5G NIC enable real-time data transmission with high timing accuracy at the lowest cost to power 5G DRAN and CRAN edge deployments:
Support 1588/PTP over IPv4 / IPV6, IEEE1588v2
Support SyncE /ITU-T G.8262
T-BC/T-TSC Boundary Clock and TSC Slave Clock /G.8273.2
T-GM Grand Master /G.8273.1 per G.8275.1 PTP Profile
PRTC Primary Reference Time Clock Class B/G.8272
T-TC Transparent Clock /G.8273.3
1588 Software Stack and Servo Software in x86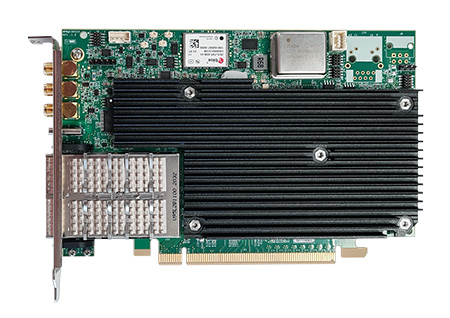 STS3 P425G8TS81 TimeSync Card
8 Ports 25 Gigabit Ethernet Grand Master, Boundary Clock, Slave Clock, PCIe GEN4 TimeSync card
GM/TimeSync:
Supports Grand Master clock per G.8275.1 Class-A PRTC/T-GM
Supports Boundary Clock (BC) OC (Master / Slave)
PTP over IPv4 / IPV6 (IEEE-1588v2) / SyncE
One step and two step clock modes operation for PTP Master
10Mhz and 1PPS programmable output
Full HW and SW GM/TimeSync solution based on industry leading DPLL, Servo stack and PTP1588
Incorporates accurate OCXO
Incorporates Global Navigation Satellite System (GNSS) receiver
Packet and physical-layer frequency, phase and Grand Master GM/TimeSynchronization
Enable 5G/Class C wireless application
LAN and Virtualization Features:
SR-IOV (Single Root I/O Virtualization): up to 256 Virtual Functions
Partially Programmable Pipeline and Advanced Traffic Steering
Intel® Ethernet Flow Director – 8000 On-Die perfect match filters
1536 queues/Physical Function (PF), >64 RSS/PF and 256 VMDq/PF
STS3 P425G8TS81 TimeSync Card
8 Ports 25 Gigabit Ethernet Grand Master, Boundary Clock, Slave Clock, PCIe GEN4 TimeSync card
General Technical Specifications: 8 Ports: Silicom Grand Master GM/TimeSync


Profile: IEEE-1588 (2008) ( Annex-J.3 Delay Request-Respond Default Profile:
Ordinary Clock – Server
Ordinary Clock- Client (including slave only OC)
Boundary Clock
Profile: IEEE-1588 (2008) ( Annex-J.4 Peer-to-Peer:
Ordinary Clock – Server
Ordinary Clock- Client (including slave only OC)
Boundary Clock
Profile: ITU-T G.8265.1 Telecom Profile for Frequency Synchronization:
Telecom Grandmaster
Telecom Slave
Profile: ITU-T G.8275.1 PTP Telecom Profile for Phase with Full timing Support:
Telecom Grandmaster (T-GM)
Telecom Boundary Clock (T-BC)
Telecom Time Slave Clock (T-TSC)
Profile: ITU-T G.8275.2 PTP Telecom Profile for Phase with Partial timing Support:
Telecom Grandmaster (T-GM)
Assisted / Partial Telecom Boundary Clock (T-BC)
Assisted / Partial Telecom Time Slave Clock (T-TSC)
Device Types:
Ordinary Clock
Boundary Clock
References Selection:
Default BMCA (Best Master Clock Algorithm)
Alternate BMCA based on ITU G.781 – Synchronization layer functions for frequency synchronization based on the physical layer
Transport Mappings:
PTP/UDP/IPv4 Annex D
PTP/UDP/IPv6 Annex E
PTP/Ethernet Annex F
NIC TS (Time Stamp) granularity:
1ns

General Technical Specifications: STS3/ 8 Ports: P425G8TS81-XR

Interface Standard:
PCI-Express Base Specification Revision 4.0 (16 GTs)
Board Size:
Single slot Standard height add-in card:
167.64mm X 111,15 mm(6.6"X 4.376")
PCI Express Card Type:
x16 Lane, bifurcation
USB Connector:
uUSB
Voltage:
+12V +/-8%, +12VAUX
PCI Connector:
Gold Finger: x16 Lane
Controllers:
2xIntel E810-CAM1
1588/ SyncE PHY:
BCM81385 (8x25G)
OCXO:
OX-2281-EAE-5000-20M000, 2 ppb, A1
DPLL:
1588 / SyncE Microchip ZL30793, Si5315A-C-GM
GNSS:
U-blox, ZED-F9T
Network ports
2xQSFP28/ QSFP
Management port
RJ45
Holder:
Metal Bracket
Power Consumption
Max: calculated: 50[w]
Operating Temperature:
0°C – 45°C (32°F – 113°F)
Storage:
-40°C–65°C (-40°F–149°F)
Regulation:
CE, FCC Class B, ROHS requirements.
LEDs:
Ports 0-3: 4 LEDs Green Link/Act.
Ports 4-7: 4 LEDs Green Link/Act.
LEDs location:
Ports 0-3: On Metal Bracket, left to QSFP28
Ports 4-7: On Metal Bracket right to QSFP28
USB HUB
USB2514 – USB hub for 4 downstream ports
FTDI USB TO RS232
USB HS to QUAD UART/MPSSE

QSFP28 25Gigabit Ethernet Technical Specifications Adapters:


QSFP28 (Small Form Factor Pluggable) supports:
(x4) SFI interfaces supports 25GBase-R PCS and 25 Gigabit PMA in order to connect with QSFP to 25GBase-SR/ LR (MPO)
25GBase-SR QSFP:
IEEE Standard / Network topology:
Fiber 25Gigabit Ethernet, 25GBASE-SR (850nM LAN PHY).
25.78125GBd
MMF Multi-Mode fiber
25GBase-LR QSFP:
IEEE Standard / Network topology:
Fiber 25Gigabit Ethernet, 25GBASE-LR (1310nM LAN PHY)
25.78125GBd
(SMF) Single-Mode fiber : 10000m at 9um
 
 

QSFP+/ SFP+ 10Gigabit Ethernet Technical Specifications Adapter:


QSFP /SFP+ (Small Form Factor Pluggable) supports:
SFI interfaces supports 10GBase-R PCS and 10 Gigabit PMA in order to connect with QSFP to 10GBase-SR/ LR (MPO)
10GBase-SR :
IEEE Standard / Network topology:
Fiber 10Gigabit Ethernet, 10GBASE-SR (850nM LAN PHY).
10.3125GBd
MMF Multi-Mode fiber
10GBase-LR
IEEE Standard / Network topology:
Fiber 10Gigabit Ethernet, 10GBASE-LR (1310nM LAN PHY)
10G.3125GBd
(SMF) Single-Mode fiber: 10000m at 9um
STS3 P425G8TS81 TimeSync Card
8 Ports 25 Gigabit Ethernet Grand Master, Boundary Clock, Slave Clock, PCIe GEN4 TimeSync card
| | | |
| --- | --- | --- |
| P/N | Description | Notes |
| P425G8TS81-XR | 2×4 Port QSFP 25/10 Gigabit Ethernet GM/ TimeSync PCI Express Server Adapter | STS3 ,x16 Gen4, bifurcation 2×8 G4, FHHL single slot |
| P425G8TS81-SR | 2×4 Port QSFP 25/10 Gigabit (SR) Ethernet GM/ TimeSync PCI Express Server Adapter | x16 Gen4, bifurcation 2×8 G4, FHHL single slot |
| TS-MB-F5-200X5 | TimeSync SMA MB Kit, Full height,5xSMA,5x200mm cables |   |
| TS-MB-L5-200X5 | TimeSync SMA MB Kit, LP,5xSMA, 200mm cables |   |