PE310G2SPT10 Server Adapter
Dual Port SFP+ 10 Gigabit Ethernet PCI Express Server Adapter Broadcom® BCM57810S Based
The Silicom 10Gigabit PCI Express TOE server adapters provide a fully integrated solution up to Layer 5 along with a complete 10 Gigabit Ethernet port/s based on Broadcom BCM57810S. Silicom 10 GB Card PCI Express TOE server adapters are Silicom's fifth -generation solution for high performance server network application.
Silicom 10 GB Ethernet Cards are based on Broadcom's convergence Network Interface card (C-NIC) off load technology for iSCSI*, FcOE*, TOE* and RDMA*
TCP Offload Engine
Silicom 10Gigabit Ethernet TOE server adapters include dedicated hardware and processors to process the frame that traverse it functionality. On the transmit path, the TOE controller Copied the data directly from the highest hierarchy of buffers available, execute the TCP/IP, adds lower level headers. On the receive, path, the TOE controller process frame up to the highest layer supported present in the frame, removes lower level headers, posts the data directly to application to application buffers. The transmit and receive TOE functionality relieves the host CPI from the from these time consuming operations.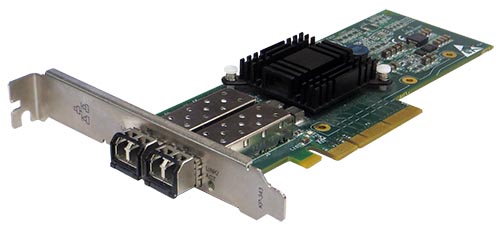 Convergence NIC
The Silicom TOE server adapter is a convergence networking interface card and allows one network connection to provide access to all information types. Silicom TOE Gigabit Ethernet server adapters can simultaneously support the following functions: TOE* Chimney- enabled network accelerator, iSCSI* controller, RDMA* network interface controller.
Reliability, Availability, Serviceability
Silicom 10Gigabit Ethernet PCI Express TOE server adapters enables fault-tolerant via teaming. Traffic from the failed port is routed through up to seven other members of the team. Silicom 10 Gigabit Ethernet PCI Express TOE server adapters are the ideal solution for implementing multiple network segments, mission-critical high-powered networking applications and environments within high performance servers.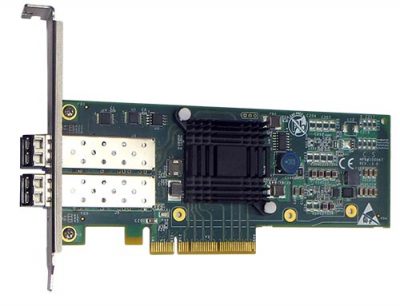 PE310G2SPT10 Server Adapter
Dual Port SFP+ 10 Gigabit Ethernet PCI Express Server Adapter Broadcom® BCM57810S Based
Fiber 10 Gigabit Ethernet 10GBASE-SR:
10 Gigabit Fiber Ethernet port supports 10GBASE-SR (850nM LAN PHY)
10Gigabit 850nM Small form Factor Pluggable (SFP+)
Fiber 10 Gigabit Ethernet 10GBASE-LR:
10 Gigabit Fiber Ethernet port supports 10GBASE-LR (1310nM LAN PHY)
10Gigabit 1310nM Small form Factor Pluggable (SFP+)
SFP+ 10Gigabit Ethernet:
10Gigabit Ethernet Adapter with SFP cage support:
Copper 10SFP+Cu (Passive Direct Attach Cable):
Compliant with the SFP+ MSA SFF-8431 specification
Up to 10 meters
TCP offload Engine:
Full fast path TCP offload for IPV4 and IPV6
Microsoft* TCP chimney compliant
iSCSI Controller*:
iSCSI initiator
iSER ( iSCSI over RDMA)
RDMA Controller ( RNIC)*:
RDMA over TCP (iWARP) – RDMAC 1.0 compliant
Hardware-based data placement in application buffers without CPU intervention ( user and kernel modes
Receive Side Scaling (RSS)
TCP, IP checksum offload
TCP segmentation offload
Message Signal Interrupts (MSI/MSI-X)
High performance, reliability, and low power use in Broadcom BCM57810S TOE controller
LEDs indicators for link/Activity status
Host Interface:
PCI Express x8 lanes
Support PCI Express Base Specification 3.0 draft v0.71 (8GT/s)
Low-Profile Adapter
SFP+ cage
PE310G2SPT10 Server Adapter
Dual Port SFP+ 10 Gigabit Ethernet PCI Express Server Adapter Broadcom® BCM57810S Based
SFP+ 10Gigabit Ethernet Technical Specifications Adapters:

SFP+ (Small Form Factor Pluggable) supports:
SFI interfaces supports 10GBase-R PCS and 10 Gigabit PMA in order to connect with SFP+ to 10GBase-SR / 10GBase-LR and SFP+ Direct Attach
10GBase-SR SFP+:
IEEE Standard / Network topology:
Fiber 10Gigabit Ethernet, 10GBASE-SR (850nM LAN PHY)
10GBase-SR SFP+:
Data Transfer Rate:
10.3125GBd
10GBase-SR SFP+:
Cables and Operating distance Up to:
62.5um, 160MHz/Km 26m
62.5um, (OM1)200MHz/Km 33m
50um, 400MHz/Km 66m
50um, (OM2)500 MHz/Km 82m
50um, (OM3)2000MHz/Km 300m
10GBase-LR SFP+:
IEEE Standard / Network topology:
Fiber 10Gigabit Ethernet, 10GBASE-LR (1310nM LAN PHY)
10GBase-LR SFP+:
Data Transfer Rate:
10.3125GBd
10GBase-LR SFP+:
Cables and Operating distance Up to:
Single-Mode: 10000m at 9um
10GSFP+Cu :
IEEE Standard / Network topology:
Copper 10Gigabit Ethernet, 10GSFP+Cu (Direct Attach)

Fiber 10GBASE-SR Ethernet Technical Specifications:

Output Transmit Power:
Typical: -2.3 dBm
Minimum: -5 dBm
Optical Receive Sensitivity:

Typical: -12.17 dBm
Maximum: -11.1 dBm
Maximum Input Power:

Minimum: +0.5 dBm

Fiber 10GBASE-LR Ethernet Technical Specifications:

Output Transmit Power:
Typical: -0.95 dBm
Minimum: -8.2 dBm
Optical Receive Sensitivity:

Typical: -4.8 dBm
Maximum: -12.6 dBm
Maximum Input Power:

Maximum: +0.5 dBm

Operating Systems Support

Operating system support:
Windows
Linux

General Technical Specifications

Interface Standard:
PCI-Express Base Specification Revision 3.0 (8GT/s)
Board Size:
Low profile add-in card: 167.65mm X 68.91mm (6.60"X 2.713")
PCI Express Card Type:
X8 Lane
PCI Express Voltage:
+12V +- 8%
PCI Connector:
X8 Lane
Controller: 
Broadcom BCM57810S
Holder:
Metal Bracket
Weight:
90gr
Power Consumption (PE310G2SPT10-XR):
5.16W, 0.43A@12V, Typical, no link at all port, no transceivers
Power Consumption (PE310G2SPT10-SR-HT):
6.72W, 0.56A@12V, Typical, all ports operate at 10Gb/s with SR transceivers
6.48W, 0.54A@12V, Typical, No link at all ports
Power Consumption (PE310G2SPT10-LR):
6.84W, 0.57A@12V, Typical, all ports operate at 10Gb/s with LR transceivers
6.6W, 0.55A@12V, Typical, No link at all ports
Power Consumption (PE310G2SPT10 - Direct Attached mode)
5.4W, 0.45A@12V, Typical, all ports operate at 10Gb/s with Direct Attached
Operating Humidity:
0%–90%, non-condensing
Operating Temperature:
0°C – 45°C (32°F – 113°F)
Storage:
-40°C–65°C (-40°F–149°F)
EMC Certifications:
FCC Part 15, Subpart B Class A
Conducted Emissions
Radiated Emissions
CE EN 55022: 1998 Class A Amendments A1: 2000; A2: 2003
Conducted Emissions
Radiated Emissions
CE EN 55024: 1998 Amendments A1: 2000; A2: 2003
Immunity for ITE Amendment A1: 2001
CE EN 61000-3-2 2000, Class A
Harmonic Current Emissions
CE EN 61000 3-3 1995, Amendment A1: 2001
Voltage Fluctuations and Flicker
CE IEC 6100-4-2: 1995
ESD Air Discharge 8kV. Contact Discharge 4kV.
CE IEC 6100-4-3:1995
Radiated Immunity (80-1000Mhz), 3V/m 80% A.M. by 1kHz
CE IEC 6100-4-4:1995
EFT/B: Immunity to electrical fast transients 1kV Power
Leads, 0.5Kv Signals Leads
CE IEC 6100-4-5:1995
Immunity to conductive surges COM Mode; 2kV,
Dif. Mode 1kV
CE IEC 6100-4-6:1996
Conducted immunity (0.15-80 MHz) 3VRMS 80% A.M.
By 1kHz
CE IEC 6100-4-11:1994
Voltage Dips and Short Interruptions
V reduc >95%, 30% >95% Duration 0.5per, 25per, 250per
MTBF*:
84 (Years) *
338 (Years) – XR *
*According to Telcordia SR-332 Issue 1
Environmental condition – GB (Ground, Fixed, Controlled). Ambient temperature - 25°C. Temperature rise of 10°C above the system ambient temperature was assumed for the cards components

LEDs

LEDs:
LED per port
Link /ACT : Turns on link , blinks on activity (green)
LEDs location:
LED is located on the PCB, visible via holes in the metal bracket holder
Connectors:
(2) SFP+ cage
PE310G2SPT10 Server Adapter
Dual Port SFP+ 10 Gigabit Ethernet PCI Express Server Adapter Broadcom® BCM57810S Based
P/N

Description

Notes

PE310G2SPT10-XR
Dual Port SFP+ 10 Gigabit Ethernet PCI Express Server Adapter
X8 Gen3 , Based on Broadcom BCM57810S, Low-profile,
Support Direct Attached Copper cable, Support Silicom SFP+ approved transceiver. RoHS compliant
PE310G2SPT10-SR
Dual Port Fiber (SR) 10 Gigabit Ethernet PCI Express Server Adapter
X8 Gen3, Based on Broadcom BCM57810S, Low-profile, on board support for Fiber SR, RoHS compliant
PE310G2SPT10-LR
Dual Port Fiber (LR) 10 Gigabit Ethernet PCI Express Server Adapter
X8 Gen3, Based on Broadcom BCM57810S, Low-profile, on board support for Fiber LR, RoHS compliant
Model P/N -LP /
-LP: Assemble Low Profile Metal Bracket
1V5