P425G2SNx IAONIC SmartNIC Intel® Based
PCI Express Appliance Accelerator Intel® Based
Experience High Performance Networking with Silicom's P425G2SNx IAONIC SmartNIC Intel® Based
The Silicom P425G2SNx IAONIC is a smart NIC that combines two of the industry's most sought after features:
A hardware-standard NIC (over PCIe v4) interface with 2 ports of 25G or 1 port of 100G
Ability to offload a complete infrastructure workload from the main host, while still working in line rate.
Silicom P425G2SNx IAONIC is based on an Intel P5700 processor that contains 8/16 X86 cores, an integrated packet processor with 25G/100G interfaces, and an Ethernet MAC using Intel® E810.
Optimize Server Resources with Silicom P425G2SNx IAONIC SmartNIC Intel® Based
With Silicom P425G2SNx NIC, the workloads that usually run alongside the host's main business logic – including infrastructure workloads and workloads that serve the main server workload – can now be offloaded onto the NIC, rather than consuming CPU power from the main business logic.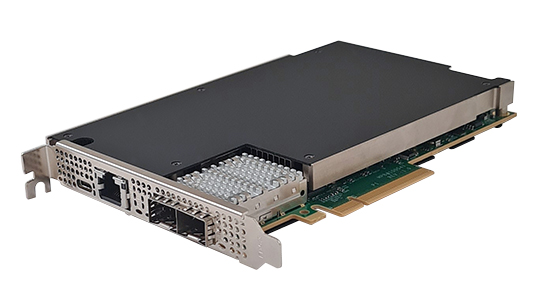 Boosting Performance with Silicom's P425G2SNx NIC: The Benefits of Workload Offloading
Examples of such workloads include:
Network traffic load balancing (hash-based or 5 tuple based)
Network mirroring and forwarding
Complete TLS termination on NIC
Complete IPSec termination on NIC
As a result, the Silicom P425G2SNx NIC supports and enhances use cases such as:
Intrusion detection systems
Telco subscriber billing and SLA monitoring
SDWAN on a NIC
Application delivery controller on a NIC
DNS over HTTPS proxy service
Layer 3 networking offload
PSec bridge on a card
and many more.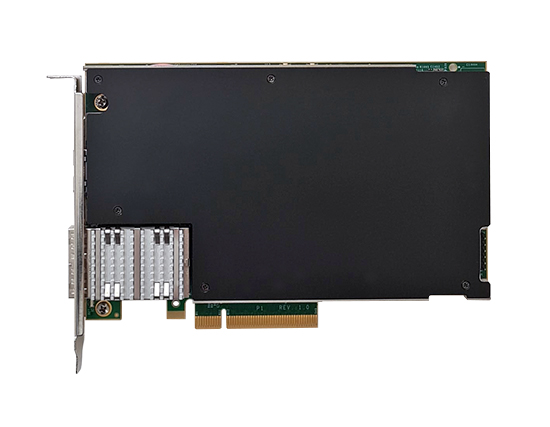 Revolutionize Your Server Infrastructure with Silicom P425G2SNx Smart NIC
Depending on the SKU, Silicom P425G2SNx cards employ 8 to 16 x86 CPU cores, the benefit of which is twofold:
Enables immediate asset reuse, meaning that any x86-based software running on the main host can now be ported to the card with minimal effort.
The physical separation of the CPU core from the main host brings the advantage of infrastructure isolation from the main workload.
These workloads and benefits can be available almost instantly by drop-in replacing any standard NIC with the Silicom P425G2SNx smart NIC.
Read more about Silicom's IAONIC solution and its use cases.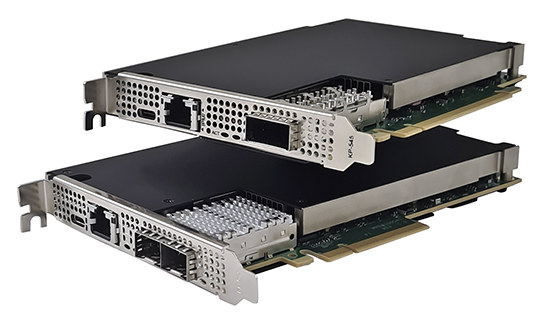 P425G2SNx IAONIC SmartNIC Intel® Based
PCI Express Appliance Accelerator Intel® Based
Form Factor:

16C Variant: Full Height, Half Length PCIe CEM Card.
8C Variant: Full Height, Half Length PCIe CEM Card

Intel® Atom Snow Ridge-NX SoC Processor
Ethernet Port Configurations:

16C Variant: 1 x QSFP28 configured as 1x100G interface.
8C Variant: 2 x SFP28 configured as 2x25G interfaces.

Intel® E810 Ethernet Network Controller for Host PCIe Interface, and data path to Snow Ridge SoC:

16C Variant: E810-CAM1 Controller for 100GbE Bidirectional Throughput.
8C Variant: E810-XXVAM2 Controller for 50GbE Bidirectional Throughput.

Each variant will support at least 2GB of DRAM per Core;

16C Variant: Support for 32GB.
8C Variant: Support for 16GB.

One QSFP28 or two SFP+.
One 1GbE port with RJ-45 connection.
One Intel ® E810 network controller for host PCIe connection and 100/25GbE path to Snow Ridge SoC.
Other interfaces down on the board: 1x USB3, 1x M.2 slots, 1x UART
TPM support for Secure Boot.
Passive cooling in single slot boundaries.
P425G2SNx IAONIC SmartNIC Intel® Based
PCI Express Appliance Accelerator Intel® Based
General Technical Specifications:

SoC

Intel® Atom P5700 Series Processor, Snow Ridge-NX SoC Processor 
Cores: 8C – 16C  
TDP:   48W – 67W  
Max: 2.2GHz

SoC BIOS
H2O or Coreboot
SoC BIOS&FW Flash
QSPI Flash Device
Operating System
Linux
SoC Memory
Two Channels, 4x DDR4 Memory Down, 1xECC Support, 2666 MT/s per channel, total 10 devices
SoC Storage

eMMC on board device

TPM
TPM 2.0, SLB9670VQ2.0FW7.40
PCI Express Voltage
+12V ± 8% from PCIe Edge Connector.
+3.3V AUX ± 9%
PCIe SoC Interface
PCIe x1 Gen2 i210
SoC Mgmt and Debug Port
On board Ethernet Controller i210 and RJ45 MagJack+LED
Debug Serial Console
On board Headers RS232 for SoC and BMC device
USB 2.0/3.0 Ports
1x USB 3.0/2.0 Connector Type C on Board for debug
1x USB 2.0 Internal connection between SoC and BMC
BMC
MCU, P/N: EFM32GG11B420F2048GL112-B
BMC Image
Silicom image to support board level management and secure boot loader
I2C EEPROM
FRU BMC
Buttons

Reset Button for SoC
Power Button for SoC

LEDs on Board

1x Yellow Color active on any case of trip alarm
1x Green Color, active when all power on board are Good
1x Red Color, Reset Status indication
1x Yellow Color from GPIO BMC, activate by software
1x Green Color for SFP28/QSFP28 ports for activity link indication.

The LEDs will be located on top edge of the board, except for the activity link leds that will be located on the front panel.

Other Hardware Devices and Interfaces

SuperCap for RTC and clear CMOS jumper
Programmable FAN controller
NOR Flash 512Mb, Parallel x16
Power sequencer device
I2C Current sense Device

Debug Connectors

USB3/2 Type C connector (DCI)
Header Programming and UART debug interface for BMC

Form Factor
FHPCIe, 167 mm x 111.15 mm (6.6'' x 4.37'')
Holder
Full Hight Metal Bracket to support 2xSFP28 cages or QSFP Cage, and RJ45 connector
Power Source
Power delivered through an 8-pin PCIe Aux Power Connector (+12VDC) for both the 16C and 8C Variant, as well as through the PCIe Edge Connector
Sensors/Monitors

Thermal shutdown protection (hardware solution)
Critical error detection from SoC
Voltage and Thermal monitors
Current input protection

Operating Temperature
0°C – 50°C (32°F – 122°F) ambient temperature, CFM per SKU
Cooling
Passive HeatSink
Storage Temperature
-40°C–65°C (-40°F–149°F)
Regulation
EC Class A
FCC Class A
Compliance with European directives for EMC, Low Voltage, RoHS and WEEE
EMC-Compliance and test report for ETSI ES 201 468 Level2, EN55022, EN55024, EN 300 386
Safety: compliance and test report for EN 60950-1

SKU1 – P425G2SN1-XR – 8C, 2x25G SFP28

Network Ports:
2x25G, SFP28
SoC
Snow-Ridge, P5721/8C/TDP48W/2.2Ghz
Memory
Micron 16GB DDR4 1Gx16 FBGA-96
Mfr. PN MT40A1G16KD-062E:E
SoC Storage
eMMC on board device, 128GB
PCIe Gold Finger Interface
PCIe x8, Gen4
PCI Express Card Type:
8 lanes
Network Host Controller
E810-XXVAM2 Controller
Power Consumption:
Maximum: 88W
Operating Temperature
0°C – 50°C (32°F – 122°F), CFM 9.0

SKU2 – P4CG1SN2-XR – 16C, 1x100G QSFP28

Network Ports:
1x100G, QSFP28
SoC:
Snow-Ridge, P/N: P5742/16C/TDP67W/2.2GHz
Memory
Micron 32GB DDR4 128Mx16x16 FBGA-96 (TwinDie).
Mfr. PN MT40A2G16SKL-062E:B
SoC Storage
eMMC on board device, 256GB
PCIe Gold Finger Interface
PCIe x16, Gen4
PCI Express Card Type:
16 lanes
Network Host Controller
E810-CAM1 Controller
Power Consumption:
Maximum: 109W
Operating Temperature
0°C – 50°C (32°F – 122°F)
P425G2SNx IAONIC SmartNIC Intel® Based
PCI Express Appliance Accelerator Intel® Based
| | |
| --- | --- |
| P/N | Description |
| P425G2SN1-XR | 2x25G, 8C |
| P4CG1SN2-XR | 1x100G, 16C |