fbSmartNIC2.0 Smart Card
Dual Port Smart Card
The quest for ever increasing system performance is propelling the adoption of FPGA technology in Network Interface Cards (or NICs). As the network speed has been increasing from 1GE to 100GE, FPGAs have proven their ability to process massive amounts of network traffic in real-time and bring a level of determinism and consistency that is not possible with other technologies.
The fbSmartNIC product family has the most comprehensive selection of programmable Ethernet cards designed to competitively enhance performance in a host of networking, financial and big data solutions. The fbSmartNIC consists of highly optimized functionality well suited for e.g. financial algorithmic trading platforms where sub-micro second latency is crucial.
The complete transport layer offload can be combined with customized logic interacting directly with the Silicom FPGA network cores. This is an efficient way for the advanced user to achieve even lower latency and to implement any filters or acceleration that are necessary for a specific application. Silicom FPGA solution comes with a full Software API for a seamless integration and monitoring.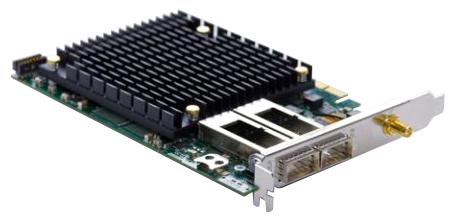 All fbSmartNIC products are supported with our hand-optimized SDK and device drivers which allow our customers to start developing their high-performance applications right out of the box. Layers 3 and 4 network capabilities are provided using our own industry-proven MAC and TCP/IP solutions. The fully integrated offering makes Silicom FPGA Solutions a true one-stop solution provider and helps customers save on development and total cost of ownership.
Silicom FPGA cards are available in variety of form factors and support 1G to 100G Ethernet network speeds, both Xilinx and Altera FPGAs, latest generation of PCI Express host interface, and a variety of memory configurations suitable for most applications.
fbSmartNIC2.0 Smart Card
Dual Port Smart Card
Host Interface:
Up to 16K logical channels connected to DMA
Latency:
Wire to wire latency of 380 ns: Receiving on UDP port, through User Logic, and sending from TCP port
Full 10G throughput on TCP port
MAC:
Combined MAC (10GbE) and PCS (10GBASE-R) IP core
Fixed latency of 101 ns: User Logic to wire, Tx + Rx
Performance:
Data rate: 10 Gbit/s
TCP/UDP throughput at line rate
Time Stamping & Sync:
Resolution = 1ns
Accuracy down to 20 ns
Environment:
At least half of the FPGA resources are available for User Logic
UDP Offload Engine:
64 UDP multicast streams accessible to Host and User Logic
Configurable to any single available port
IGMP support
TCP Offload Engine (TOE):
Up to 16K TCP connections accessible to Host and User Logic
Configurable to any available port
Support up to 10K bytes Ethernet frames
User Logic:
8 dedicated DMA Channels to/from Host System at full PCIe speed
1 MB of register access
All TCP and UDP streams accessible
Access to all physical ports
Software API:
Multi DMA channel streaming (128 channels) with host dependent DMA buffer
C based API (DLL/Shared library). Windows, Linux & FreeBSD (on request)
On Board Sensor Readings:
Current fbSmartNIC2.0 System status available in Software API
Temperature with present minimum, maximum card operating temperature
Optical power level
Link status
TCP State information
Standard NIC:
Full Standard NIC Support
Configurable to all available ports running alongside TOE and UDP Engine
Data path also accessible to User Logic
Statistics:
Statistics are based on a subset of RFC2819 RMON1
Statistics are provided on a per second basis:
Network counter: Number of Octet, CRC Align Errors, Undersize Packets, Oversize Packets, Jabbers, etc.
Monitor Channels:
All outgoing packet can be looped back to Host through PCIe for monitoring or logging purposes
fbSmartNIC2.0 Smart Card
Dual Port Smart Card
Host Interface:

Physical bus connector:
8-lane PCIe
Supported bus type:
1-8 lane PCIe Gen3, Gen2 & Gen1

General Technical Specifications

Time Stamping & Sync:
External synchronization: PPS
Daisy chain between multiple cards supported
Configuration:
16 bit parallel master interface from supporting preprogrammed Actel FPGA
Configuration flash supports two boot images with automatic fallback to fail safe image if first image fails
Upload of FPGA configuration to flash via PCIe
Upload of FPGA configuration to flash via USB
On Board Clock:
125.00 MHz oscillator
156.25 MHz oscillator
On Board Memory:
2 x 64 bit DDR3@1600MT/s 4GB (total 8GB memory)
FPGA:
Xilinx Virtex7 VX690T

Network Interface:

IEEE standard:
IEEE 802.3 10 GbE
Physical interface:
2 x QSFP+ ports

Environment:

Physical characteristics:
Half length, standard height PCIe: 111 x 169 mm. Weight: 129 g.
Power consumption:
Less than 25W
Operating temperature:
0 – 55°C, 30 – 130°F
Operating humidity:
20 – 80%
Hardware compliance:
RoHS, CE
Additional Board Support:
On board temperature sensor
Pre-programmed Atmel CPU with power measurement, host SMB I/F, USB I/F
Board status LED
FPGA controlled Link and Activity LED for each port
External clock synchronization connector
fbSmartNIC2.0 Smart Card
Dual Port Smart Card
| | | |
| --- | --- | --- |
| P/N | Description | Notes |
| fbSmartNIC2.0 |   |   |
1V0