fbC2CGhh Capture Card
Half height Dual Port QSFP28 Ethernet Capture Card
The Silicom fbC2CGhh Dual Capture Card offers network connectivity and capture to host memory with zero packet loss and with hardware packet processing. The 2xQSFP28 slots allow link speed support for 2x100GE/40GE/25GE, 8x10GE and 8x25GE.
The fbC2CGghh capture card is based on cutting edge Xilinx FPGA technology in the Kintex UltraScale+ series, providing packet filtering, advanced processing, traffic management, load balancing and host offloading mechanisms.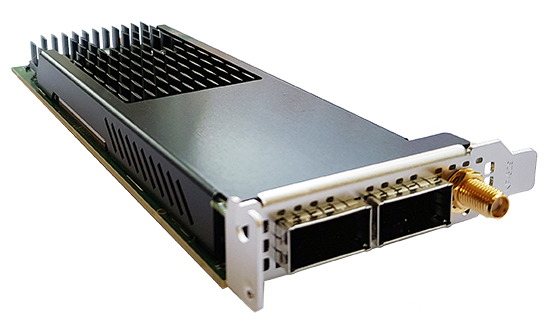 This high performance hardware platform connects to the network using QSFP28/QSFP+/SFP28 modules and performs packet processing, while delivering a sustained throughput to host memory of up to 107 Gbps, using the standard PCIe connector with full support for standard gen3 x16.
The fbC2CGghh capture card uses a single-slot x16 lane PCIe solution, while only being half height. This makes it suitable for high performance applications with a minimal footprint. NUMA specific memory allocation allows for effective traffic management and load balancing in NUMA environments.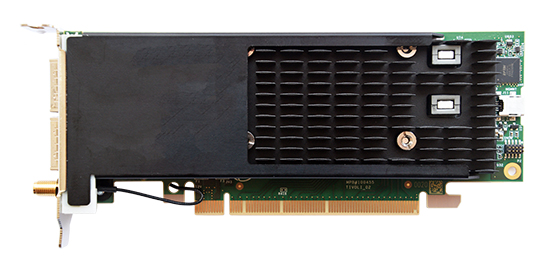 fbC2CGhh Capture Card
Half height Dual Port QSFP28 Ethernet Capture Card
2 x 100GE/40GE/25GE, 8 x 10GE and 8 x 25GE
PCIe form-factor: Half height, half length (68.9 x 167.65 mm)
8 GB 72-bit Error-correcting code (ECC) DDR4 RAM
107 Gbps sustained capture to host
16-lane PCIe Gen3
Precision timestamping
3.2 nano second resolution
Microsecond latency
fbCAPTURE API
Hardware filtering and traffic distribution
Application acceleration and scalability
fbC2CGhh Capture Card
Half height Dual Port QSFP28 Ethernet Capture Card
General Technical Specifications

IEEE standard

IEEE 802.3 10GE, 40GE, 25GE, 100GE

Interfaces

Physical interface: 2 x QSFP28 slots
40GE support using QSFP+
10GE supported through break-out cable assemblies
2 x 25 SFP28 through QSA28 adaptor
Supported SFP28 modules (25GE) extra using adaptor:
SR, LR
Appropriate 4 x 25GE break-out modules
Supported QSFP+ modules (10GE/40GE):
SR4, LR4, LM4, PSM4/IR4, CDWM4, ER4, ZR4, BiDi, CR4
Appropriate 4 x 10GE break-out modules
Ethernet PHY directly embedded in FPGA

PCI bus

16 lanes PCIe Gen3
PCIe compliant

Host interface
64 logical channels that can be connected to DMA or egressed to physical output ports
On Board Memory

On board buffering for application robustness
8 GB 72-bit Error-correcting code (ECC) DDR4 RAM

Capture rate

Capture rate (micro bursts): Line rate (200 Gbps)
Capture rate (sustained): 107 Gbps to host memory

Latency

Less than 1 μs to host memory
Less than 1 μs from host memory to Tx
Non-blocking sending, allowing user applications to operate independently

Time Stamping and Sync

Resolution = 3.2 ns
Accuracy down to 20 ns
Daisy chain PPS between multiple cards supported
Via COAX or Card interconnect adapter
Strict Host based sync available in driver
PPS synchronization via SMA connector

Configuration

Dual boot images with automatic fallback to fail-safe image
Full configuration and firmware upgrades via supplied tools or fbCAPTURE API

Environment

½ height, ½ length 68.90 x 167.65 mm with bracket
Operating temperature: 0 – 55°C, 30 – 130°F
Operating humidity: 20 – 80%
Hardware compliance: RoHS, CE
Passive cooling
Active cooling (option can be customized)

Additional Board Support

fbCAPTURE API
PF_RING and nTop suite support
DPDK support
libPCAP support
On-board temperature sensors
On-board multi-color status, Link and Activity LED for ports
HW prepared for direct Card to Card interconnect and second PCIe slot connection
fbC2CGhh Capture Card
Half height Dual Port QSFP28 Ethernet Capture Card
P/N

Description

fbC2CGhh-8x10G
10GE, half height bracket mounted, full height spare
fbC2CGhh-2x25G
25GE, half height bracket mounted, full height spare
fbC2CGhh-8x25G
25GE, half height bracket mounted, full height spare
fbC2CGhh-2x40G
40GE, half height bracket mounted, full height spare
fbC2CGhh-2x100G
100GE, max 100Gbps, Limited HW filter capacity,
half height bracket mounted, full height spare
fbC2CGhh-8x10GF
10GE, full height bracket mounted, half height spare
fbC2CGhh-8x25GF
10GE, full height bracket mounted, half height spare
fbC2CGhh-2x25GF
25GE, full height bracket mounted, half height spare
fbC2CGhh-2x40GF
40GE, full height bracket mounted, half height spare
fbC2CGhh-2x100GF
100GE, full height bracket mounted, half height
spare, Max 100Gbps, Limited HW filter capacity