fb4CGg4@VU09P-2-A FPGA Card
Silicom SDAccel Xilinx® FPGA Accelerator Server Adapter
Silicom's Xilinx® FPGA SDAccel 10/25/40/100 Gigabit compatible server adapter is based on a high performance Xiliinx® FPGA Ultrascale Plus. The Silicom's FPGA SDAccel adapter has the same 'out of box' experience as the Xilinx® VCU1525 development kit, currently used for VU9P based SDAccel based solutions. This will enable all customer designs, SDAccel platform source files and examples to be seamlessly migrated to this card.
The SDAccel™ development environment for OpenCL™, C, and C++, enables up to 25X better performance/watt for data center application acceleration leveraging FPGAs. SDAccel, member of the SDx™ family, combines the industry's first architecturally optimizing compiler supporting any combination of OpenCL, C, and C++ kernels, along with libraries, development boards and the first complete CPU/GPU like development and run-time experience for FPGAs.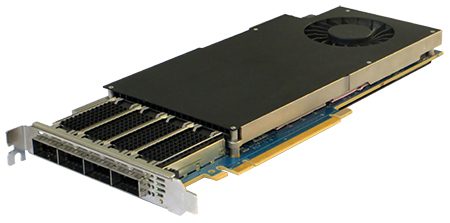 SDAccel™ is a development environment for OpenCL™ applications targeting Xilinx® FPGA-based accelerator cards. This environment enables concurrent programming of the in-system processor and the FPGA fabric without the need for RTL design experience. The application is captured as a host program written in C/C++ and a set of computation kernels expressed in C, C++, or the OpenCL C language.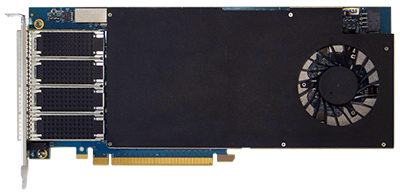 fb4CGg4@VU09P-2-A FPGA Card
Silicom SDAccel Xilinx® FPGA Accelerator Server Adapter
A true programmable solution built for a SDAccel Development Environment
Programmable Intelligent accelerator front End Packet Processing Offload
Support SDAccel Development Environment
Supports Xilinx Ultra Scale+ XCVU9P, 16nm, package D2104
Supports on board 64GByte DDR4 with ECCO
Supports 4x100G, QSFP28 connectors
PCIe Gen3, X16
¾ Length, Full height
Selection of Heat sink types optimized to application power / host server limitation
fb4CGg4@VU09P-2-A FPGA Card
Silicom SDAccel Xilinx® FPGA Accelerator Server Adapter
General Technical Specifications

IEEE standard:
PCI-Express Base Specification Revision 3.0 (8 GTs)
Board Size:
Full height, ¾ length 111.15 x 254.00 mm with bracket
PCI Express Card Type:
X16
Note: Can be plug only in PCIe slot of x16
PCI Express Voltage:
+12V ± 8% and 3.3Vaux optionally
On Board Connector Voltage:
+12V ± 8%
On board auxiliary power connector to support power over 75W
PCIe Connector:
x16 Lanes
FPGA:
Xilinx® Ultra Scale+ XCVU9P, 16nm , Package D2104
Network Ports:
4x QSFP28 supports:
100G-SR4, 100G-LR4, 100G-Cu ( Direct Attached)
Break Out support ( Yes)
IO Ports:
USB Type AB – on the back of the board for debug/ download FPGA image
Memory:
4 banks of 16GByte + ECC. Total 64 GByte with ECC
Holder:
Metal Bracket
Thermal Design:
- Active heat sink, targeted to single socket
- Passive heat sink, targeted to dual slot.
- Built-in thermal protection
- Passive HS for single slot power limited
Sensors:
- Temperature
- Power
- Fan speed ( Active heat sink sku)
Storage:
-40°C–65°C (-40°F–149°F)
Regulation:
Card shall meet CE, FCC Class B, ROHS requirements.
Ports LEDs:
Link/ ACT
LEDs
Tree color LED for statues

Operating Systems Support:

Operating system support:

Kernel Linux support, U-boot bootloader and comprehensive user documentation
Operating System Support (Software package support for DDR4 SDRAM, eMMC flash, Quad SPI flash, USB host, Gigabit Ethernet, U-boot bootloader and comprehensive user documentation)
fb4CGg4@VU09P-2-A FPGA Card
Silicom SDAccel Xilinx® FPGA Accelerator Server Adapter
| | | |
| --- | --- | --- |
| Temp Sensor | Address | Thermal Diode and placement |
| fb4CGg4@VU09P-2-A | Silicom SDAccel Xilinx® FPGA Accelerator Server Adapter Specifications | X16 Gen3 , ¾ length , full hight, x16 PCIe card, based on Xilinx FPGA XCVU9P-L2, Active heat sink, single slot. Supporting 4x QSFP28 RoHS compliant |
1V3