Marbella Networking Motherboard
Board supporting 4,8, and 10-core Intel® Xeon® D-1700 processors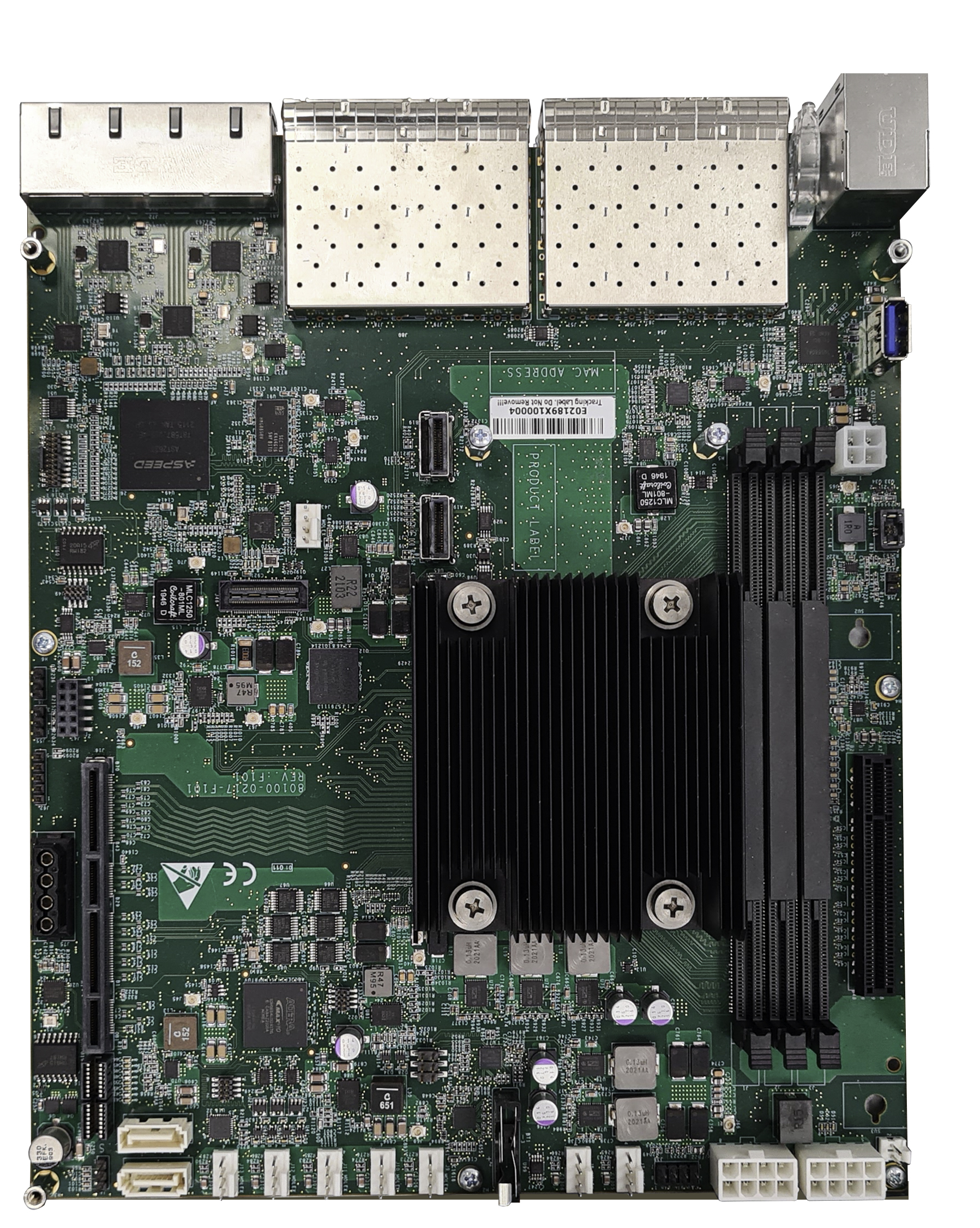 Powering Next-Gen Computing, Cybersecurity, and High-Bandwidth with Intel® Xeon® D-1700 Processor and AI Acceleration
The Marbella Networking Motherboard features a next-generation Intel® Xeon® D-1700 processor designed to deliver server-class computing, cybersecurity, and high-bandwidth with built-in AI acceleration, Deep Learning Boost, and powerful real-time capabilities.
The Marbella motherboard is designed for fast network processing and cutting-edge developments, including next-generation WAN optimization and security. It is a groundbreaking solution that creates an excellent platform for developing applications in the fields of networking, uCPE, SD-WAN, SASE, SSE, 5G DU, and IoT Edge Computing. Its outstanding features allow it to improve packet processing performance while also providing network security within virtual network functions.
Marbella Networking Motherboard: High-Capacity Support for Real-Time Systems and Hypervisor
The Marbella Networking motherboard is powered by Intel®'s Xeon® D-1700 and is capable of running multiple virtual machines and control systems. Its high capacity support includes real-time systems and Hypervisor Support, allowing it to consolidate many different types of workloads and provide a one-stop-solution Networking Edge board.
Additionally, the Marbella Networking motherboard supports PCIe Expansion for both x16 Gen4 Full-Height 3⁄4-Length and x8 Gen3 Half-Height Half-Length configurations, as well as LTE/5G and Timesync modules along with BMC in-band support. With all these features and more, the Marbella Networking Motherboard is the perfect solution for any edge computing or remote network requirements.
Marbella Networking Motherboard
Board supporting 4,8, and 10-core Intel® Xeon® D-1700 processors
Intel® Xeon® D-1700 Platform. Support 4,8, and 10-core CPU SKUs
Memory support up to 256GB DDR4
Supports a Dual x4 PCIe NVMe
Networking

4x 10G/25G SFP28 (support for 10G RJ45)
4x 1G/10G SFP+
3x 2.5G RJ45
1x 1GbE MGMT

Commercial and Industrial Temperature Options
Redundant AC or DC Power Supplies
Short Depth Enclosure (12"/305mm)
PCIe Expansion

x16 Gen4 Full-Height ¾-Length
x8 Gen3 Half-Height Half-Lenth

Support LTE/5G and Timesync modules
BMC with in-band support
Marbella Networking Motherboard
Board supporting 4,8, and 10-core Intel® Xeon® D-1700 processors
General Technical Specifications

CPU:
Intel® Xeon® D-1700. Support for 4,8, and 10-core SKUs
Memory:
3x Channels DDR4, Supports up to 256GB
Storage:

eMMC (4GB to 256GB)
Two NVMe (x4 PCIe)
Two 2.5" SATA

Network:

4x 25G/10G SFP28 (SKU and Configuration Dependent)
4x 10G/1G SFP+ (SKU and Configuration Dependent)
3x 2.5GbE (Intel i226)
1x 1GbE (BMC Management)

I/O:

2x USB3/2
Console: Cisco RS232 RJ45

PCIe Expansion:

x16 PCIe Gen4 Full Height, ¾ Length Card
x8 PCIe Gen3 Half Height, Half Length Card

Cellular (Optional card)

Supports optional wireless modules (4G and 5G options)
Antenna access through extender

TimeSync (Optional card)

External SMA source inputs are 10MHz, PPS, and GNSS/GPS
External SMA outpus are 10MHz and PPS

BMC:

AST2620 (no video, option for extended temperature)
NCSI to CPU for optional in-band management
Thermal monitor/fan control (up to 7)
Remote updates
Remote Power Management
Virtual USB
Serial over LAN

Security:

TPM2.0
Hardware Root of Trust
Intrusion switch

Other:

Power / Reset Buttons (programmable)
RGB LED's

BIOS:

UEFI BIOS (Consider open-source solution)
Optional Redundant BIOS

Power Supply:

Redundant 500W Pluggable Power Supply
AC and DC Options

Environmental:

Commercial SKU: 0C to 40C
Industrial SKU: -20C to 65C

Size:

W*D*H

8.268 x 9.961 x 0.076