Toledo IoT-Edge Network appliance
A flexible IoT-Edge Network appliance Intel Atom® C3000 Processor Based
The Toledo, Intel Atom® C3000 Processor based, is a 1U compact fanless industrial server / network appliance.
Highly modular by design, the Toledo allows 'mix and match' of 10G SFP+, 10G Base-T and 1Gbe ports.

An additional FHHL PCIe 3.0 add-on slot enables the installation of an industry standard AIC for storage, communication, data acquisition and more.
The Toledo has a wide supply-voltage option of 9-28DCV designed for easy adaptation to in-vehicle applications.
As a fanless device, the Toledo can sustain operating temperatures of -30°C to 72°C.

Toledo IoT-Edge Network appliance
A flexible IoT-Edge Network appliance Intel Atom® C3000 Processor Based
Based on Intel® Atom® C3000 Processor Series, 4-16 Cores
Two slots of communication modules allowing mix and match of up to 4x 10G SFP+ or 4x 10G Base-T or 10x 1G Ethernet ports or any combination of 10G SFP+, 10G Base-T and 1GE. Two pairs of 1GE LAN bypass available.
Wirless / Wan / BT trough M.2 and Min PCIe slots.
Fanless and rugged design for harsh environments.
Wide supply-voltage ranging from 9VDC to 28VDC.
Optional PCIe 3.0 x8 slot extension which can accommodate full height PCIe Add-on card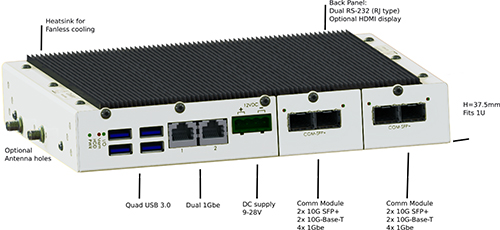 Toledo IoT-Edge Network appliance
A flexible IoT-Edge Network appliance Intel Atom® C3000 Processor Based
General Technical Specifications

Processor
Intel Atom® C3000 Processor Series, 4-16 Cores
Memory
2 x LP DDR4 ECC 2400/2133 MHz, up to 64GB
Storage
NVMe SSD: M.2 KEY M, PCIE3.0 x4, 2260 or 2280 or 22110
SATA3 SSD: M.2 KEY B, 2260 or 2280
Networking

10 Gigabit :
SFP+: 4x SPF+
RJ45: 4x 10GBase-T or
Mix: 2x SPF+ and 2x 10GBase-T
Gigabit
2x 1Gbe ports
6x 1Gbe ports
10x 1Gbe ports
LAN bypass, Optional

WWAN / WLAN: 4G,LTE,3G / 802.11ac/ad, Wireless Gigabit
Bluetooth: BT 5.0

Display
HDMI, 4K, SM768 256MB display memory, Optional
Interfaces
USB: 4x USB3.0
Serial ports: 2x RS232
CAN bus: Using mPCIE, Optional
Digital I/O, 2.5KV Optically isolated, 16 In + 16 Out, Optional
Expansion Slots
PCIe 3.0, 8 lane, Add-on slot. Full Height, Half Length (FHHL), up to 25W total
M.2 M-KEY: 1x sockets, NVME, PCIEx4
M.2 B-KEY: 1x socket, SATA, USB3.0/2.0 + SIM
M.2 E-KEY: 1x socket, PCIEx1, USB2.0
MiniPCIE: 1x socket half size
Management
BMC AST2400/2500, IPMI 2.0, DCMI, iKVM, Virtual Media, Optional
Security
TPM 2.0, SLB9665
SECURE BOOT, SECURE FLASH
Power
9-28VDC with Reverse polarity, Over/under Voltage protection
Software support
Windows: Win 10 IoT, WS2016,WS2019
Linux®: All major distributions
LED
Power, HDD, 2x GPIO
Mechanical
DIMENSIONS: 209x187x37.5mm (WxDxH), WEIGTH: 1.1Kg +add-ons
Environment

OPERATING TEMPERATURE

Standard 0°C to 50°C
Extended* -20°C to 60°C
Industrial* -30°C to 72°C
* On selected configurations

STORAGE TEMPERATURE -40°C to 85°C
HUMIDITY 95%@40°C (non-condensing)

Certification
EMC: CE, FCC ,AS/NZS, SAFETY: IEC 60950-1, AS/NZS