Bilbao uCPE
Intel® Xeon-D-2100, Broadcom® Trident 3-X3 Based
Next-Generation Edge Computing with Silicom Bilbao: The Perfect Solution for Small Cell, MEC, vRAN, and Cloud Edge Applications
Silicom's Bilbao Edge Compute based on the Intel® Xeon® D-2100 Processor and Broadcom® Trident 3 switch is a high-end Edge Compute appliance offer 10G and 25G Ethernet ports. Silicom Bilbao integrate high speed switch coupled with Xeon processor for high bandwidth connectivity and flexibility that brings the agility of modular LAN, WAN, management, and compute to cost-sensitive applications in SD-WAN, CPE, Security, Small Cell, MEC, vRAN, Cell Site, Cloud Edge, Aggregation Router and IoT.

Deploy Next-Generation Secure Edge Applications with Silicom uCPE Featuring Xeon-D Processor and CoS Queues per Port
The Xeon-D processor and networking switch engine designed specifically for networking application. Switch support flexible Class of Service (CoS) queues per port assure the lowest latency to high priority traffic as well as DoS attack statistics gathering. Silicom uCPE is the ideal platform upon which to deploy next-generation secure edge applications.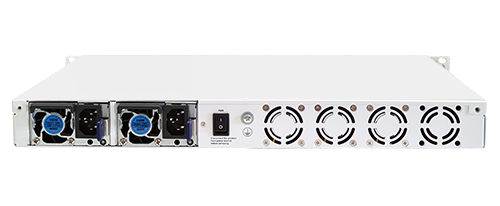 Bilbao uCPE
Intel® Xeon-D-2100, Broadcom® Trident 3-X3 Based
General Technical Specifications

CPU:
Intel® Xeon SKY-D, D-2100 4 Cores, 8 threads Base Freq. 2.2GHz, TDP 60W
BIOS:
CoreBoot
BIOS Flash:
SPI
Operating System:
Linux
Switch Chips set:
Broadcom® Trident3-X3 BCM56370
MGMT PHY:
Broadcom® B50210S
Memory:
1x16GB DDR4 with ECC, 1 Memory channel
Storage:
256GB /SSD, M2, SATA
Internal Switch:
1x 10GE-KR
1x PCIe Gen2
External Switch Ports:
1x100GbE, QSFP28
4x25GbE, SFP28
24x10GbE, SFP+
Host Mgmt:
1GbE RJ45 on Management Card, Shared with BMC.
• 1GbE Between BMC and Switch
USB 3.0:
2xFront, 2x Internal Vertical
Serial Console:
RJ45 connector using RS232 signaling
M.2 Expansion:
M.2 Key B with support up to 30x110mm. Currently used for M.2 Storage
BMC:
μBMC. TI ARM
Power:
90-264VAC input,
12VDC, 550W
Dying Gasp supported on BMC
Optional redundancy
Support FRU hot-swappable
LED's:
Management card support three tri-color configurable LED's (red, green, blue)
Other
Hardware:
Configurable Recessed button (Recommend for Factory reset)
Configurable Large button (Recommend for power)
Form Factor:
1U rackmount Form Factor EIA 19"
Depth 410mm
Weight:
<10Kg
Power Consumption:
The total power consumption of the card depends on user application
Cooling:
FANs, Design supports up to 5 FANs
Sensors/Monitors:
Thermal protection
Critical Error Detection
Voltage monitors
Current protection
Operating Temperature:
0°C – 40°C (32°F – 104°F)
Storage:
-40°C–65°C (-40°F–149°F)
Operating Altitude:
10000 ft (3048 m)
Regulation:
CE, FCC Class A, ROHS requirements.
MTBF*:
>10,000 hours –
* According to Telcordia SR-332 Issue 4. Environmental condition – GB (Ground, Fixed, and Controlled). Ambient temperature 40°C
Bilbao uCPE
Intel® Xeon-D-2100, Broadcom® Trident 3-X3 Based
| | |
| --- | --- |
| P/N | Description |
| 90500-0161-G00 | uCPE-Bilbao, 1U, 19″, D-2123IT(4C), DDR4 / 16GB / ECC / BCM56370 |