BSE-Series Bypass Switch
Silicom Ethernet Managed Bypass Switch Specifications
Silicom Managed Bypass Switch is designed for 10 / 1 Gigabit Ethernet networks. The Silicom managed Bypass switch is targeted to maintain network connectivity when the in-line system fails. The Managed Bypass switch is based on reliable a passive switch, console management port and on board watch dog timer controller.
Silicom Managed Bypass switch supports two modes of operations: Normal and Bypass. In Normal modes, the Bypass switch diverts the network traffic to attached in-line network system. In Bypass mode, the inline traffic is diverted to the network link and no longer routed to the in-line device. The Managed Bypass Switch can be programmed to Bypass its Ethernet ports on event of power fail, Link fail or user request.
The Silicom Managed Bypass switch includes an on board Watchdog timer controller (WDT) and a passive switch. The on board WDT controller can receive heartbeat "alive" packet via its serial communication console, USB, or its Ethernet port (selected models).
The Silicom Managed Bypass switch can be shipped as a stand alone unit (BSS) or as a rackmount 1U host system (BS1U). The rackmount 1U host system support up to four Bypass modules. Each Bypass module supports a Bypass segment. The Bypass modules in the 1U host system can be chained in order to enable multi-Bypass segment to support systems with limited management accessibility.
Stand Alone unit
TThe Silicom Managed Bypass switch a stand-alone flavor includes four 10 /1 Gigabit Ethernet data ports. Console management include Serial ( RJ11), USB and Ethernet port (selected models). The stand-alone flavor includes an external +12V power supply.
Figure: 1- Front panel view of BSSF-CEM

1U Rackmount host system
The 1U host system that supports up to four Bypass Switch modules. The Bypass switch host includes two redundant internal dual 110 – 220 V AC power supplies.
The Silicom Managed Bypass switch host supports two types of Bypass switch modules, a controller (-C) and a slave (-S). A controller Bypass switch (-C) module includes data ports and management ports. A slave module includes data ports only. A controller Bypass module ( -C) and a slave Bypass module can be chained 1U host system. The chain of modules was designed in order support systems with limited management accessibility that requires multi-Bypass segment configurations.
Figure: 2 – Front panel view of BS1U with four BSF-CEM

BSE-Series Bypass Switch
Silicom Ethernet Managed Bypass Switch Specifications
Key Features
Bypass Ethernet ports on Power Fail, System Hangs, management port fail, Software Application Hangs or user request
Software programmable Bypass or Normal Mode
On Board Watch Dog Timer (WDT) Controller
Software programmable time out interval
Software Programmable WDT Enable / Disable counter
Software programmable Bypass Capability Enable / Disable: Can be also in Normal mode at power off
Built-in Bypass circuitry, which operates in host system fails, Power OFF and programmable software
Programmable state (Bypass mode or Normal mode) at switch and host Power up, switch and host power off
Independent Bypass / Normal operation in every module
Reliable passive switch architecture
Chained configuration: enable multi-Bypass segment to support systems with limited management accessibility
10G / 1G Fiber Multi-mode
Supports Fiber Gigabit Ethernet (1000Base-SX)
Supports Short Range Fiber 10 Gigabit Ethernet (10GBase-SR)
10G / 1G Fiber Single – mode
Supports Fiber Gigabit Ethernet (1000Base-LX)
Supports Long Range Fiber 10 Gigabit Ethernet (10GBase-SR)
Bypass Switch 1U Host switch (BS1U)
Enable chaining modules – one console can control several slave modules in the system
1U mechanical specification
Dual internal 110 – 220V AC Power supply for redundancy
BSE-Series Bypass Switch
Silicom Ethernet Managed Bypass Switch Specifications
Multi-Mode: Fiber Gigabit Ethernet Technical Specifications – (10GBase-SR)

IEEE Standard / Network topology
Fiber Gigabit Ethernet, 10GBase-SR (850nM)
Data Transfer Rate
20Gbit/s in full duplex mode per port
Cables and Operating distance
Multimode fiber:62.5um
16.5m maximum at 62.5 um **
Theoretical Distance – Defined as half a distance as stated by the IEEE 802.3 standard
Insertion loss (Normal)
Typical: 0.8 dB
Maximum: 1.9 dB
Insertion Loss (Bypass)
Typical: 0.8 dB
Maximum 1.9 dB

Fiber Gigabit Ethernet General Technical Specifications – (1000Base-SX)

IEEE Standard / Network topology
Fiber Gigabit Ethernet, 1000Base-SX (850nM)
Cables and Operating distance
Multimode fiber:
137m maximum at 62.5 um **
**Theoretical Distance – Defined as half a distance as stated by the IEEE 802.3 standard
Insertion Loss (Normal Mode)
Typical: 0.8 dB
Maximum: 1.9 dB
Insertion Loss (Bypass Mode)
Typical: 0.8 dB
Maximum: 1.9 dB

Single-Mode: Fiber 10Gigabit Ethernet Technical Specifications – (10G Base-LR) Adapters

IEEE Standard / Network topology
Fiber Gigabit Ethernet, 10Base-LR (1310nM)
Data Transfer Rate
20Gbit/s in full duplex mode per port
Cables and Operating distance
Multimode fiber:9um
5000m maximum at 9 um **
Theoretical Distance – Defined as half a distance as stated by the IEEE 802.3 standard
Insertion Loss (Normal Mode)
Typical: 1.2 dB
Maximum: 1.6 dB
Insertion Loss (Bypass Mode)
Typical: 1.2 dB
Maximum: 1.6 dB

Fiber Gigabit Ethernet Technical Specifications – (1000Base-LX) Adapters

IEEE Standard / Network topology
Fiber Gigabit Ethernet, 1000Base-LX (1310nM)
Data Transfer Rate
2000Mbit/s in full duplex mode per port
Cables and Operating distance
Single-Mode fiber: 9um
2500m maximum at 9um **
** Theoretical Distance – Defined as half a distance as stated by the IEEE 802.3 standard
Insertion Loss (Normal Mode)
Typical: 1.2 dB
Maximum: 1.6 dB
Insertion Loss (Bypass Mode)
Typical: 1.2 dB
Maximum: 1.6 dB

Bypass Specification


WDT Interval (Software Programmable)
3,276,800 mSec (3,276.8 Sec): Maximum
100 mSec ( 0.1 Sec) : Minimum
WDT Interval = (2^wdt_interval_parameter)*(0.1) sec.
wdt_interval_parameter: { Valid Range: 0-15}

Bypass Switch stand alone : BSSF-CEM / -CES Stand alone, stand alone Controller Multi-Mode and Single Mode

Size
x 152mm x 120.5mm x 24mm (6″ x 4.75″ x 1″)
Wide x Depth X Height
Voltage
+12V (Min 11.4, Max, 12.6V)
Operating Humidity
0%–90%, non-condensing
Operating Temperature
0°C – 50°C (32°F – 122°F)
Storage Temperature
-20°C–65°C (-4°F–149°F)
EMC Certifications
Class B
MTBF*
> 50 years

BSF : LED Connector Specifications


LEDs:
(3) LEDs per
Power
Normal
Alarm
Connectors
(4) LC per segment
RJ11 console
USB console
RJ45 console

BS1U: Bypass Switch 1U Host system

Dockings
Front holders 1U rack mount
Voltage Input
AC: 90-240 VAC Auto-Select
Size
444mm x 270 mm x 44 mm ( 17.48" x 10.63" x 1.732")
Wide x Depth X Height
Operating Humidity
0%–90%, non-condensing
Operating Temperature
0°C – 50°C (32°F – 122°F)
Storage Temperature
-20°C–65°C (-4°F–149°F)
EMC Certifications
Class B
MTBF*
> 50 years

BSF-CEM/ -CES 1U module Controller Multi-Mode and Single Mode

Size
129mm x 100mm (7.709″ x 3.937″)
Voltage
+12V (Min 11.4, Max, 12.6V)
Operating Humidity
0%–90%, non-condensing
Operating Temperature
0°C – 50°C (32°F – 122°F)
Storage Temperature
-20°C–65°C (-4°F–149°F)
EMC Certifications
Class B
MTBF*
> 50 years

BSF-CEM/ -CES 1U: LED and Connector Specifications

LEDs
(3 ) LED
Power
Normal
Alarm
Connectors
(4) LC per segment
RJ11 console
USB console
RJ45 console

BSF-SEM/ -SES 1U module Slave Multi-Mode and Single Mode

Size
129mm x 100mm (7.709″ x 3.937″)
Voltage
+12V (Min 11.4, Max, 12.6V)
Operating Humidity
0%–90%, non-condensing
Operating Temperature
0°C – 50°C (32°F – 122°F)
Storage Temperature
-20°C–65°C (-4°F–149°F)
EMC Certifications
Class B
MTBF*
> 50 years

BSF-SEM/ -SES 1U Slave Module: LED and Connector Specifications

LEDs:
(3 ) LED
Power
Normal
Alarm
Connectors
(4) LC per segment
Functional Description
Figure: 3 – Normal Mode Functional Block Diagram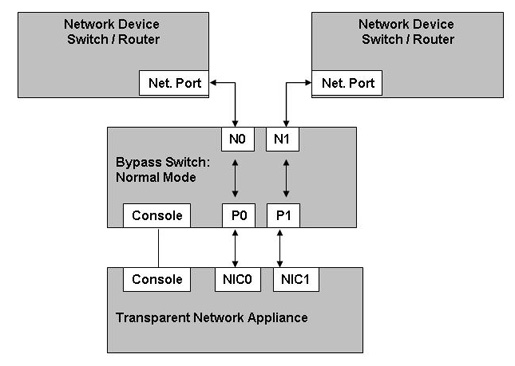 Figure: 4 – Bypass Mode Functional Block Diagram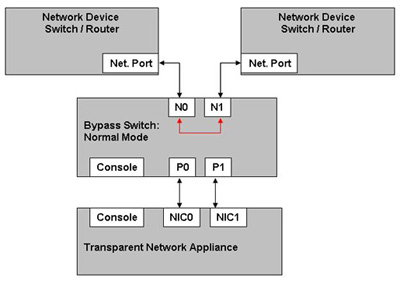 BSE-Series Bypass Switch
Silicom Ethernet Managed Bypass Switch Specifications
P/N

System Format

Media

Console Port

Media Type

-XY-XY-XY

Power Cord


-R

Managed Bypass Switch
1U: 1U
S: Stand Alone
F: Fiber
T: Copper
-SE: Slave
-CE: Controller w/Ethernet
M: Multimode
S: Single mode
T: Copper
For additional modules console port and media type:
X: C / S / CE
Y: M/S/T
-US
-EU
-CN
-48
ROHS
Stand Alone
| | | |
| --- | --- | --- |
| P/N | Description | Notes |
| BSSF-CEM- US-R | 10 /1 Gigabit (MM) Fiber Managed Bypass switch | Stand alone, controller Multimode, w/ US style power cable, Ethernet, serial and USB management cables. |
| BSSF-CEM- EU-R | 10 /1 Gigabit (MM) Fiber Bypass Managed Switch | Stand alone, controller Multimode, w/ EU style power cable, Ethernet, serial and USB management cables |
| BSSF-CEM- CN-R | 10 /1 Gigabit (MM) Fiber Bypass Managed Switch | Stand alone, controller Multimode, w/ CN style power cable, Ethernet, serial and USB management cables. |
| BSSF-CES- US-R | 10 /1 Gigabit (SM) Fiber Bypass Managed switch | Stand alone, controller Singlemode, w/ US style power cable, Ethernet serial and USB management cables |
| BSSF-CES- EU-R | 10 /1 Gigabit (SM) Fiber Managed Bypass Switch | Stand alone, controller Singlemode, w/ EU style power cable, Ethernet, serial and USB management cables |
| RK-1U-2-BSS | 1U Rack Mount Kit for two BSS products |   |
1U Host System
| | | |
| --- | --- | --- |
| P/N | Description | Notes |
| BS1U-CEM-US-R | 1U w/ 10 /1 Gigabit (MM) Fiber Managed Bypass Switch 1U | 1U host with one controller Multimode, w/ US style power cable, Ethernet, serial and USB management cables |
| BS1U-CEM-CN-R | 1U w/ 10 /1 Gigabit (MM) Fiber Managed Bypass Switch 1U | 1U host with one controller Multimode, w/ CN style power cable, Ethernet, serial and USB management cables |
| BS1U-CES-US-R | 1U w/ 10 /1 Gigabit (SM) Fiber Managed Bypass Switch 1U | 1U host with one controller Single mode, w/ US style power cable, Ethernet, serial and USB management cables |
| BS1U-CEM-SM-US-R | 1U w/ Two 10 /1 Gigabit (MM) Fiber Managed Bypass Switch | 1U host with one controller, one slave Multimode, w/ US style power cable, Ethernet, serial and USB management cables |
| BS1U-CES-SS-US-R | 1U w/ Two 10 /1 Gigabit (SM) Fiber Managed Bypass Switch | 1U host with one controller, one slave Single mode, w/ US style power cable, Ethernet, serial and USB management cables |
| BS1U-CEM-CM-EU-R | 1U w/ Two 10 /1 Gigabit (MM) Fiber Bypass Switch | 1U host with with two Multimode, controller w/ EU style power cable, Ethernet, serial and USB management cables |
| BS1U-US-RoHS | Bypass Switch 1U Host System | 1U host system w. US style power cable |
| BS1U-EU-RoHS | Bypass Switch 1U Host System | 1U host system w / EU style power cable |
| BS1U-CN-RoHS | Bypass Switch 1U Host System | 1U host system w / CN style power cable |
| BS1U-48-RoHS | Bypass Switch 1U Host System | 1U host system w / -48V redundant power supply |
| BSF-CEM-R | 10/1 Gigabit (MM) Fiber Managed Bypass switch | Add-in module, controller Multimode, w/, Ethernet serial and USB management cables |
| BSF-CES-R | 10/1 Gigabit (SM) Fiber Managed Bypass switch | Add-in module, controller single, w/ serial, Ethernet and USB management cables |
| BSF-SEM-R | 10/1 Gigabit (MM) Fiber Managed Bypass switch | Add-in module, slave Multimode, w/ serial, Ethernet and USB management cables. |
| BSF-SES-R | 10/1 Gigabit (SM) Fiber Managed Bypass switch | Add-in module, slave single, w/ serial, Ethernet and USB management cables |
Note: Model P/N
–US: Includes US power cable (90-240 VAC Auto-Select)
-EU: Includes EU power cable (90-240 VAC Auto-Select)
-CN: Includes CN power cable (90-240 VAC Auto-Select)
-48: (-75 – -36) VDC
1V5