Palma Distributed Unit
2U Ice-Lake-SP (ICX-SP) Based
Designed for Edge computing services with a focus on 4G/5G DUs (Distributed Units), the Palma platform's features a front panel IO for RU (Radio Unit) connectivity, together with Silicom Time Sync (STS) Technology, 5G L1 Acceleration, and Remote Management capabilities such as ZTP.
The Palma platform offers up to 32 cores per socket and higher performance per core than the previous generation.
It offers expanded memory bandwidth, with 16DIMMs per socket and PCIe-Gen 4.0 connectivity.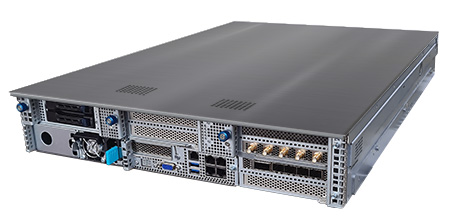 Palma's I/O interface supports PTP (1588) and SyncE for Time Synchronization, with 1G/10G/25G and 100G connectivity as ordering options. Palma's design also enables hosting of multiple eASIC / FPGA cards for service acceleration in both wireline and wireless deployments.

Palma Distributed Unit
2U Ice-Lake-SP (ICX-SP) Based
Palma's special features include:
Thermally optimized solution for E-temp
DU-optimised: features TimeSync and FEC Accelerator on main board
Simplest and most reliable design
Palma Distributed Unit
2U Ice-Lake-SP (ICX-SP) Based
General Technical Specifications

CPU:
Intel Xeon Ice Lake (ICX-SP), Socket P+, 4189 pin, Single Socket 32C/2.2GHz/270W/ XCC, Intel QDF Code QVM7
Chipset:
LBG-R, C621A
Memory:
128GB, with ECC 8x16GB@3200 installed Supports up to 16 DIMMs/ DDR4 with ECC,8 DDR channel controllers DDR Maximum Speed 3200MT/s
Storage:
2TB 2.5" SATA HDD
PCI#1, 3:
PCIe x16G4
PCI#2, 4:
PCIe x8G3
BIOS:
UEFI(Vendor: American Megatrends Inc.|Version: 0312)
Operating System:
Linux/ CentOS
Host Eth. Ports:
4 x I350 copper
Host Mgmt.:
(1) 1GbE RJ45 Management via BMC. Web interface(admin/admin)
USB 3.0:
2x Front, 2xInternal
Host Serial Console:
Not Supported
Remote Host Access:
Access to Host video output via Eth. BMC (Web interface)
BMC:
AST2600
TPM:
TPM 2.0
Power Supply:
1x AC power supply 1600W
Power Supply voltage rate:
90 -220VAC
Form Factor:
2U rackmount Form Factor EIA 19", 670mm x 447mm x88mm•Depth: 670mm, Chassis does not include mounting ears
Weight:
~20kg
Cooling:
4FANs
Sensors/Monitors:

Thermal protection

Critical Error Detection

Voltage monitors

Current protection

Operating Temperature:
10°C –35°C (50°F -95°F)
Storage:
-40°C–65°C (-40°F–149°F)

SKU1 Features:

Time Sync SKU1:

P410G8TS81-SR STS2 installed at Slot 3

Single slot, x8G4 at x16 mechanical connector

8Ports, 8x10G, 1xQSFP+, 4x SFP+

QSFP+: 10GBase-SR, 10GBase-LR

SFP+: 10GBase-SR, 10GBase-LR

TimeSync SMA:
x5 SMAs: PPS in, PPS out, 10MHz in, 10MHz out, GNSS antenna
Profile: IEEE-1588 ( 2008) ( Annex-J.3 Delay Request-Respond Default Profile

Ordinary Clock –Server

Ordinary Clock-Client ( including slave only OC)

Boundary Clock

Profile: IEEE-1588 ( 2008) Annex-J.4 Peer-to-Peer

Ordinary Clock –Server

Ordinary Clock-Client ( including slave only OC)

Boundary Clock

Profile: ITU-T G.8265.1 Telecom Profile for Frequency Synchronization

Telecom Grandmaster

Telecom Slave

Profile: ITU-T G.8275.1 PTP Telecom Profile for Phase with Full timing Support

Telecom Grandmaster ( T-GM)

Telecom Boundary Clock ( T-BC)

Telecom Time Slave Clock ( T-TSC)

Profile: ITU-T G.8275.2 PTP Telecom Profile for Phase with Partial timing Support

Telecom Grandmaster ( T-GM)

Assisted / Partial Telecom Boundary Clock ( T-BC)

Assisted / Partial Telecom Time Slave Clock ( T-TSC)

Device Types:

Ordinary Clock

Boundary Clock

Transparent Clock (peer-delay-message exchange)

References:
Default BMCA (Best Master Clock Algorithm)
Selection:
Alternate BMCA based on ITU G.781 -Synchronization layer functions for frequency synchronization based on the physical layer
On board FEC Accelerator:
Silicom PML 5G/4G FEC HW accelerator x16G3, P3IMB-M-P2 installed at slot 1

SKU2 Features:

Time Sync SKU2:

Silicom TimeSync SKU2, 12 ports

P425G410G8TS81-XR

STS4 installed at Slot 3-4

Dual slot, x16G4

Network Ports:

12Ports, 1xQSFP+ , 4xSFP+, 1xQSFP28

QSFP+: 10GBase-SR, 10GBase-LR

SFP+: 10GBase-SR, 10GBase-LR

QSFP28: 25/10GBase-SR, 25/10GBase-LR

On board FEC Accelerator:
Silicom PML 5G/4G FEC HW accelerator x16G3, P3IMB-M-P2 installed at slot 1, same as SKU1
Palma Distributed Unit
2U Ice-Lake-SP (ICX-SP) Based
| | | |
| --- | --- | --- |
| P/N | Description |  Notes: |
| 90500-0169-E01 | DU, Palma A0, 2U,19″, 32C/2.2Ghz/270w, DDR4/128GB/ECC, 1xPSU, SKU1 | Includes:1xACpower cable, SKU1, 8 ports TimeSync |
| 90500-0169-E00 | DU, Palma A0, 2U,19″, 32C/2.2Ghz/270w, DDR4/128GB/ECC, 1xPSU, SKU2 | Includes:1xACpower cable, SKU2, 12 ports TimeSync |