Silicom FPGA SmartNIC N501x Series
Quad port QSFP28 100 Gigabit Ethernet PCIe Gen4 x16 Intel® Stratix® 10DX FPGA Based
Silicom FPGA SmartNIC N501x Series is being replaced by N5013/N5014 FPGA SmartNIC
Visit product page:  N5013/N5014 FPGA SmartNIC
Silicom FPGA SmartNIC N501x Series
The FB4CG@S10D21 FPGA SmartNIC N501x Series is a high-performance programmable PCIe Server adapter-based Intel/PSG Stratix DX210 FPGA. This data sheet describes the Intel FPGA Programmable Acceleration Card featuring the Intel® Stratix ® 10DX FPGA. This document provides electrical, mechanical thermal specification. The FB4CG@S10D21 FPGA SmartNIC is targeted to for market-specific acceleration in application such as: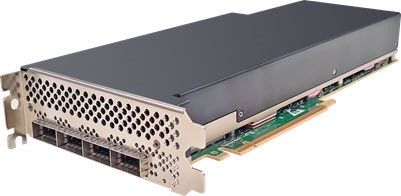 Network Function Virtualization (NFV)
Multi-Access Edge Computing (MEX)
Cyber security
High-Performance Computing
Finance
Mobile network
---
Silicom FPGA SmartNIC N5010 base unit 100 Gigabit Ethernet, PCIe Gen4
Silicom FPGA SmartNIC N5011 base unit plus two Intel E810-CAM1 NIC devices
Silicom FPGA SmartNIC N5012 base unit plus dual host capability with additional PCIe Gen4 x16 port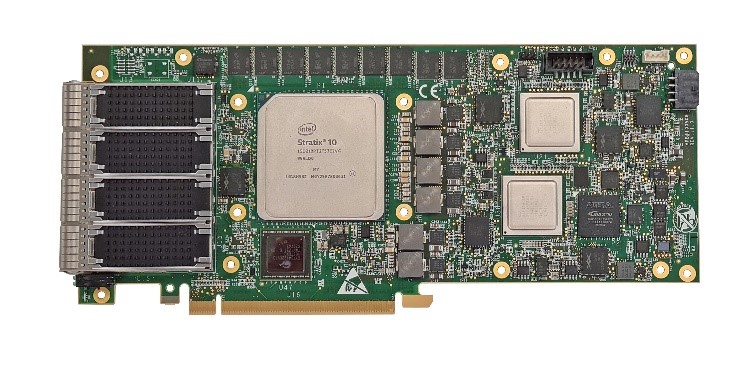 Silicom FPGA SmartNIC N501x Series
Quad port QSFP28 100 Gigabit Ethernet PCIe Gen4 x16 Intel® Stratix® 10DX FPGA Based
Host Interface:
Physical bus connector: x16, 4.0
Intel Network Controller E810-CAM1:
NIC provides a hardware compatible interface with Linux drivers
Support Data Plan Development Toolkit (DPDK)
Network Interface:
IEEE standard: IEEE 802.3 100GbE
Physical interface: (4) QSFP28
Multimode SR4 (850nm), Single Mode LR4 (1310nm),or Direct Attached Copper (Twinax)
Support Sync-E/ 1588 standard (optional feature depending on FPGA image)
Configuration:
Upload of FPGA configuration to flash via PCIe – with supported image and tool.
On Board Memory:
DDR4/ 32GByte+ECC ( x18 devices )
HBM / 8GBytes
Board Management:
Voltage level monitoring
Thermal shut-down protection
Over current protection on 12V input
Silicom FPGA SmartNIC N501x Series
Quad port QSFP28 100 Gigabit Ethernet PCIe Gen4 x16 Intel® Stratix® 10DX FPGA Based
General Technical Specifications Adapters: 

Interface Standard:
PCI-Express Base Specification Revision 4.0 (16 GTs)
PCIe Form Factor:
Full height, Full length, Single Slot Active
Full height, ¾ length, Dual Slot Passive
PCI Express Card Type:
x16G4, mechanical
Note: Can be plug only in PCIe slot of x16
PCI Express Voltage:
+12V ± 8%
On Board Connector Voltage
+12V ± 8%, On board auxiliary power connector to support power over 75W
FPGA:
Intel S10DX Stratix 10 DX HBM2 1SD21BPT2F53E2VG
Network Controller:
(2) Intel E810-CAM1
Network Ports:
(4) x QSFP28 supports:
100G-SR4, 100G-LR4, 100G-Cu (Direct Attached)
Memory:
32GB on board – (2) banks of 16GByte + ECC. Total 32 GByte with ECC, ( ping pong is not needed)
HBM: 8GByte ( 2×4 GByte, internal)
Holder:
Metal Bracket
Backplate:
Yes
Target Maximum Power

225W:
75W max from the 12V PCIe Slot

150W max from the PCIe 12Vaux power

FAN: MTTF @50C ( Active)
MTTF: 246,963 ( HRS)
L10: 35,280 ( HRs)
Thermal Design:
– Active heat sink, targeted to single socket
– Passive heat sink targeted to dual slot
– Built-in thermal protection
– Passive HS for single slot power limited
Sensors:
– Temperature, FPGA and environment.
– Power
– Fan speed ( Active heat sink sku)
Storage:
-40°C–65°C (-40°F–149°F)
Regulation:
FCC/ CE /, FCC Class A, UL, ROHS
Ports LEDs
(4) Link/ ACT per QSFP28
LEDs
(4) Green on link –
(1) status: Red – Power fail, Green – Status OK, Yellow FPGA – Config not done
Dual slot Operating Temperature:
0°C – 45°C (32°F – 113°F), Dual slot Passive heat sink
Dual Maximum Power consumption:
200W
Single Operating Temperature:
0°C – 45°C (32°F – 113°F), Single slot Passive heat sink
Single Maximum Power consumption:
150W
Silicom FPGA SmartNIC N501x Series
Quad port QSFP28 100 Gigabit Ethernet PCIe Gen4 x16 Intel® Stratix® 10DX FPGA Based
P/N

Description

Notes:

Intel name

FB4CG@S10D21-D00P0
Programmable PCI Express Server Adapter Based on Intel FPGA S10DX21
PCIe x16 Gen 4, 4x QSFP28,
S10DX21, HBM 8GB
Without TimeSync
D: 144MbitQDRIV (iTemp/933Mhz) +DDR4 2x16GBDDR4 (32GB)
0: (0) E810-CAM1
0: ¾ Length, 10", No I-pex connectors.
P: Passive heat sink, dual slot
0: No SMA
N5010
FB4CG@S10D21-D20P0
Programmable PCI Express Server Adapter Based on Intel FPGA S10DX21
PCIe x16 Gen 4, 4x QSFP28,
S10DX21, HBM 8GB
Without TimeSync
D: 144MbitQDRIV (iTemp/933Mhz) +DDR4 2x16GBDDR4 (32GB)
2: (2) E810-CAM1
0: ¾ Length, 10", No I-pex connectors.
P: Passive heat sink, dual slot
0: No SMA
N5011
FB4CG@S10D21-D01P0
Programmable PCI Express Server Adapter Based on Intel FPGA S10DX21
PCIe x16 Gen 4, 4x QSFP28,
S10DX21, HBM 16GB
Without TimeSync
D: 144MbitQDRIV (iTemp/933Mhz) +DDR4 2x16GBDDR4 (32GB)
0: (0) E810-CAM1
1: Full Length, w/ I-Pex connectors (2xPCIE)
P: Passive heat sink, dual slot
0: No SMA
N5012
1V0