STS1 PE425G4TSi81L TimeSync Card
TimeSync 25Gigabit Ethernet PCI Express Gen4 Server Adapter
Silicom's STS1 TimeSync Server Adapter: Best-in-Class Timing Solution for 5G and Carrier-Grade Systems
Silicom's TimeSync (STS1) PE425G4TSi81L is a 25 Gigabit Ethernet PCI Express Gen4 TimeSync server adapter, designed for X86 Servers and high-end appliances.
The 25 Gigabit Ethernet TimeSync PCIe server adapter is based on Intel E810 chipset and best in the industry timing solution targeting 5G/ Class C wireless base station and carrier-grade systems.
Silicom's STS1 Support 4 port of 10G/25G capabilities to synchronize host system with external clock source using 1PPS and 10MHz. The STS1 TimeSync server adapter support both 1588v2/PTP and SyncE for high clock accuracy in Master and Slave mode. STS1 design is meeting O-RAN requirements for LLS-C1, LLS-C2 and LLS-C3, modes of operations with both Boundary and Transparent clocks.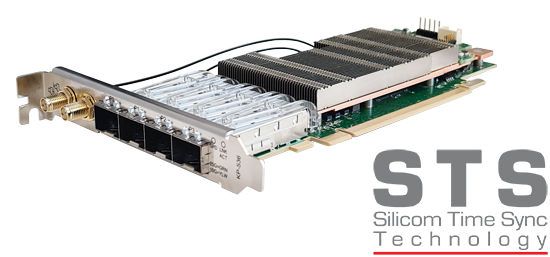 Silicom STS Line Card: Enabling Real-time Data Transmission with IEEE 1588v2 and SyncE Support
Silicom STS line card for 4G and 5G NIC enable real-time data transmission with high timing accuracy at the lowest cost to power 5G DRAN and CRAN edge deployments:
Support 1588/PTP over IPv4 / IPV6, IEEE1588v2
Support SyncE /ITU-T G.8262
T-BC/T-TSC Boundary Clock and TSC Slave Clock /G.8273.2
T-GM Grand Master /G.8273.1 per G.8275.1 PTP Profile
PRTC Primary Reference Time Clock Class B/G.8272
T-TC Transparent Clock /G.8273.3
1588 Software Stack and Servo Software in x86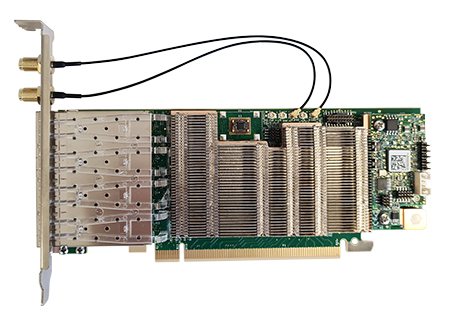 STS1 PE425G4TSi81L TimeSync Card
TimeSync 25Gigabit Ethernet PCI Express Gen4 Server Adapter
TymeSync:
Supports PTP Clock Grand Master* (GM) G.8273.1 Boundary Clock (T-BC) and Slave T-TSC G.8273.2
PTP over IPv4 (IEEE-1588v2) / SyncE
One step clock mode operation for PTP Master
10Mhz and 1PPS output for measurement purpose
Full HW and SW TimeSync solution based on industry leading DPLL, Servo stack and PTP1588
Incorporated accurate OCXO +/-10ppb to keep Long-term Holdover over 4h without physical layer assist < 25us
Option for larger OCXO, +/-5ppb to keep Holdover over 4h < 3.5us
Based on Three DPLL channels

Packet and physical-layer frequency, phase and time synchronization
Physical-layer compliance ITU-T G.8262, G.8262., G.813, G.812, Telcordia GR-1244. GR-253
Packet-timing compliance with ITU-T G.8261, G.8263, G.8273.2, G.8273.2 (class A, B &C), G.8273.4
Enable 5G/Class C wireless application with sub 10nS time/ phase alignment requirements
LAN and Virtualization Features:
SR-IOV (Single Root I/O Virtualization): up to 256 Virtual Functions
Support for standard and custom network headers
Partially Programmable Pipeline and Advanced Traffic Steering
Intel® Ethernet Flow Director – 8000 On-Die perfect match filters
1536 queues/Physical Function (PF), >64 RSS/PF and 256 VMDq/PF
STS1 PE425G4TSi81L TimeSync Card
TimeSync 25Gigabit Ethernet PCI Express Gen4 Server Adapter
PTP profiles support:

Profile: IEEE-1588 ( 2008)  Annex-J.3 Delay Request-Respond Default Profile

Ordinary Clock – Server Ordinary Clock- Client (including slave only OC) Boundary Clock
Profile: IEEE-1588 ( 2008)  Annex-J.4 Peer-to-Peer


Ordinary Clock – Server

Ordinary Clock- Client (including slave only OC)

Boundary Clock

Profile: ITU-T G.8265.1 Telecom Profile for Frequency Synchronization

Telecom Grandmaster

Telecom Slave

Profile: ITU-T G.8275.1 PTP Telecom Profile for Phase with Full timing Support

Telecom Grandmaster ( T-GM)

Telecom Boundary Clock ( T-BC)

Telecom Time Slave Clock ( T-TSC)

Profile: ITU-T G.8275.2 PTP Telecom Profile for Phase with Partial timing Support

Telecom Grandmaster ( T-GM)

Assisted / Partial Telecom Boundary Clock ( T-BC)

Assisted / Partial Telecom Time Slave Clock ( T-TSC)

Device Types:


Ordinary Clock

Boundary Clock

References Selection:


Default BMCA (Best Master Clock Algorithm)

Alternate BMCA based on ITU G.781 – Synchronization layer functions for frequency synchronization based on the physical layer

Transport Mappings:


PTP/UDP/IPv4 Annex D

PTP/UDP/IPv6 Annex E

PTP/Ethernet Annex F

NIC TS (Time Stamp) granularity
1ns

General Technical Specifications: PE425G4TSi81L-XR

Interface Standard:
PCI-Express Base Specification Revision 4.0 (16 GTs)
Board Size:
Low profile short add-in card:
167.64mm X 64.39mm (6.6"X 2.535")
PCI Express Card Type:
x16 Lane
On Board Connector Voltage:
+12V +/-8%
PCI Connector:
Gold Finger: x16 Lane
Controllers:
Intel E810-CAM1
DPLL:
1588 / SyncE
OCXO:

Default option for low requirements to holdover performance: Vectron, OX-601, 20MHz 10ppb 7.4 x 9.6 x 4.1 mm For improved holdover: Vectron OX-401, 20MHz 5ppb 20.7 x 13.1 x 8.5 mm
Holdover:

Long-term Transient Response (Holdover) performance, without physical layer assist, in 50 +/-10°C TA:
For OX-4011, expected 3.5us TE over 4 hours

For OX-6011, expected 25us TE over 4 hour

1588/ SyncE PHY:

BCM81385
Holder:
Metal Bracket
Weight:

242 gr.
Power Consumption:

Typical, 25G-SR: (with full network load, all ports) : 2.9A @12V, 34.8W

Typical 10G-LR: (with full network load, all ports): 3.02@ 12V, 36.24W Max: calculated: 45W

Operating Temperature:
0°C – 45°C (32°F – 113°F)
Air Flow Requirements:
200 LFM (linear ft./min)
Storage:
-40°C–65°C (-40°F–149°F)
Regulation:
Card shall meet CE, FCC Class B, ROHS requirements.
MTBF*:

Environment: GB, Temperature: 40.00 °C,F.R.( FIT ): 276.28 , MTBF (hours): 3619520.13 MTBF (years): 413.19.

LEDs

LEDs:

Each Port has 2 LEDs to indicate link status and speed.
Link: Physical link Speed:

Green stay on – physical link on with 25G Speed (Max speed)
Yellow stay on – physical link on with 10G / 1G / 100M (Not max Speed)
Off – physical link off.

Link /ACT: Logic Link/Activity, Green

Green stay on – logic link up, no activity
Green blinking – logic link up, activity
Off – logic link off

LEDs location:
LEDs are located on the PCB, visible by light pipe via the metal bracket, above SFP

SFP28 25Gigabit Ethernet Technical Specifications Adapters:

SFP28 (Small Form Factor Pluggable) supports:
SFI interfaces supports 25GBase-R PCS and 25 Gigabit PMA in order to connect with SFP28 to 25GBase-SR
25GBase-SR SFP28:
IEEE Standard / Network topology:
Fiber 25Gigabit Ethernet, 25GBASE-SR (850nM LAN PHY), 25.78125Gbps, Maximum link 100M/OM4/MMF, LC, 0-70C
25GBase-LR SFP28:
IEEE Standard / Network topology:
Fiber 25Gigabit Ethernet, 25GBASE-LR (1310nM LAN PHY)

SFP+ 10Gigabit Ethernet Technical Specifications Adapters:


SFP+ (Small Form Factor Pluggable) supports:
SFI interfaces supports 10GBase-R PCS and 10 Gigabit PMA in order to connect with QSFP to 10GBase-SR/ LR (MPO)

10GBase-SR:

IEEE Standard / Network topology:

Fiber 10Gigabit Ethernet, 10GBASE-SR (850nM LAN PHY). 10.3125GBd MMF Multi-Mode fiber

10GBase-LR

IEEE Standard / Network topology:

Fiber 10Gigabit Ethernet, 10GBASE-LR (1310nM LAN PHY) 10G.3125GBd (SMF) Single-Mode fiber : 10000m at 9um
STS1 PE425G4TSi81L TimeSync Card
TimeSync 25Gigabit Ethernet PCI Express Gen4 Server Adapter
| | | |
| --- | --- | --- |
| P/N | Description | Notes |
| PE425G4TSi81L-XR | Quad Port SFP28 25/10 Gigabit Ethernet PCI Express Server Adapter | x16 Gen4, Low Profile, Based on Intel E810-CAM1 |
| PE425G4TSi81L-ZS | Quad Port Fiber (ZS) 25/10 Gigabit Ethernet PCI Express Server Adapter | x16 Gen4, Low Profile, Based on Intel E810-CAM1 |
| TS-MB-F5-200X5 | TimeSync SMA MB Kit, Full height,5xSMA,5x200mm cables |   |
| TS-MB-L5-200X5 | TimeSync SMA MB Kit, LP,5xSMA, 200mm cables |   |