STS4 TimeSync NIC P425G410G8TS81
12 Ports 25/10 Gigabit Ethernet Grand Master, Boundary Clock, Slave Clock, PCIe GEN4 TimeSync NIC
Revolutionizing STS4 for Accurate and Robust Timing NIC
The Silicom Time Sync product line (STS) offers cutting edge combination of PCIe smart NIC with highly accurate and robust timing support. STS supports IEEE 1588 (PTP) standard compliance Grand Master (GM), Boundary Clock (BC), Slave and G.8275.1, G.8275.2 Telecom profiles.
STS incorporating best in class Microchip PTP stack and servo in its product. By building Silicom timing software package on top of it, adding advanced GNSS, SyncE and PTP support, Silicom delivers carrier grade timing product.
The STS4 product delivers high sync performance, such as BC/Slave ITU-T G.8273.2 Class C, and Master ITU-T G.8272 Class B, complete support of failover scenarios, tight monitoring of GNSS clock quality and jamming, and extremely good holdover performance with and without SyncE. Silicom STS4 are fully supported by RedHat OpenShift operator, VMware Photon as well as by Helm Chart / K8s.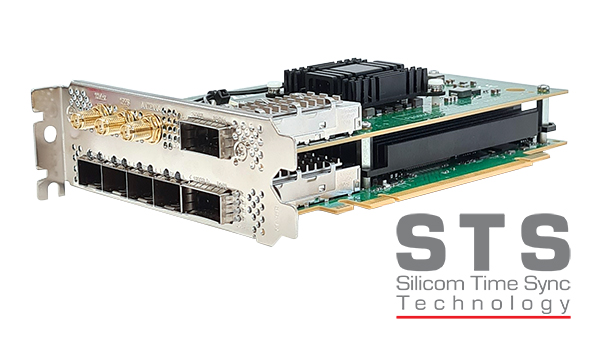 The STS4 address a wide range of use cases including 4G and 5G O-RAN (Open RAN), generic cellular backhaul and fronthaul, data centers, HFT (High Frequency Trading) and industrial automation. O-RAN (Open RAN) relies on stringent time synchronization requirements for end-to-end latency and jitter.
O-RAN ensure open, intelligent, virtualized and fully interoperable RAN. O-RAN delivers the most efficiently infrastructure connectivity solution for high-speed and synchronized network connections. Stringent timing synchronization is critical for ensuring O-RAN requirements for end-to-end latency and spectral efficiency.
STS4 incorporate virtual RAN software for DU & CU that runs on COTS (Commercial of the Shelf) servers with high-density NIC (network interface card), combined with advanced time synchronization including PTP, SyncE (Synchronous Ethernet) and GNSS (Global Navigation Satellite System). The usage of COTS hardware and integration of Grand Masters (GM) and Boundary Clock (BC) functionalities into DU NIC drive the cost down.
The STS4 NIC includes high port count, high-speed links, timestamps on PHY level, SyncE & PTP PLL, on-board GNSS, while the PTP stack and servo software run on COTS servers in virtual environment.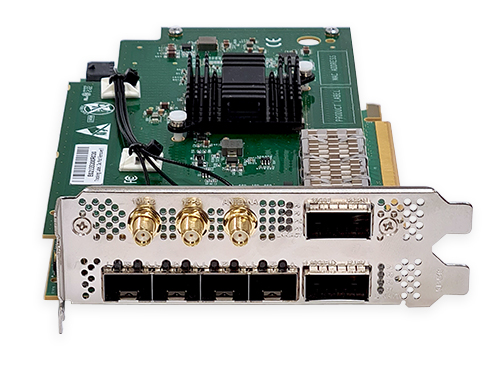 STS4 TimeSync NIC P425G410G8TS81
12 Ports 25/10 Gigabit Ethernet Grand Master, Boundary Clock, Slave Clock, PCIe GEN4 TimeSync NIC
12 Ethernet ports – 8 ports 10G and 4 ports 25G
Supports IEEE1588v2/PTP over Ethernet/IPv4/IPv6
Supports IEEE 1588 (PTP) standard compliance Grand master (GM), Boundary Clock (BC), Slave
Supports ITU-T G.8275.1, G.8275.2 Telecom profiles
Supports

T-GM (Telecom Grand Master)
T-BC (Telecom Boundary Clock)
T-TSC (Telecom Slave Clock)

Incorporates best in class PTP stack and servo in its product
Carrier grade timing product
Extremely good holdover performance – Incorporate high end OCXO
Master ITU-T G.8272 Class B
BC/Slave ITU-T G.8273.2 Class C
BC/Slave ITU-T G.8273.4 Class B
One step and two steps clock modes
GNSS (Global Navigation Satellite System) receiver as a standard
Synchronous Ethernet

ITU-T G.8261 – Packet over Transport aspects – Synchronization, quality and availability targets
ITU-T G.8262 – Timing characteristics of synchronous equipment slave clock
ITU-T G.8262.1 – Packet over Transport aspects – Synchronization, quality and availability targets
ITU-T G.8264 – Distribution of timing information through packet networks (ESMC)

Supported OS / Environments

Kubernetes
Redhat OpenShift
Vmware Photon
Rocky
Ubuntu
CentOS
LAN and Virtualization Features:
SR-IOV (Single Root I/O Virtualization): up to 256 Virtual Functions
Partially Programmable Pipeline and Advanced Traffic Steering
Intel® Ethernet Flow Director – 8000 On-Die perfect match filters
STS4 TimeSync NIC P425G410G8TS81
12 Ports 25/10 Gigabit Ethernet Grand Master, Boundary Clock, Slave Clock, PCIe GEN4 TimeSync NIC
STS Information

Profile: IEEE-1588 (2008)
(Annex-J.3 Delay Request-Respond Default Profile):

Ordinary Clock – Server
Ordinary Clock- Client (including slave only OC)
Boundary Clock

Profile: ITU-T G.8275.1 PTP Telecom Profile for Phase with Full timing Support:
Telecom Grandmaster (T-GM)
Telecom Boundary Clock (T-BC)
Telecom Time Slave Clock (T-TSC)
Profile: ITU-T G.8275.2 PTP Telecom Profile for Phase with Partial timing Support:
Telecom Grandmaster (T-GM)
Assisted / Partial Telecom Boundary Clock (T-BC)
Assisted / Partial Telecom Time Slave Clock (T-TSC)
Device Types:
Ordinary Clock
Boundary Clock
References Selection:
Default BMCA (Best Master Clock Algorithm)
Alternate BMCA based on ITU G.781 – Synchronization layer functions for frequency synchronization based on the physical layer
Transport Mappings:
PTP/UDP/IPv4 Annex D
PTP/UDP/IPv6 Annex E
PTP/Ethernet Annex F
NIC TS (Time Stamp) granularity
1ns

STS4 12 Ports: P425G410G8TS81-XR: General Technical Specifications

Interface Standard:
PCI-Express Base Specification Revision 4.0 (16 GTs)
Board Size:
Dual slot Standard height add-in card, FHHL:
167.64mm X 111,15 mm (6.6"X 4.376")
PCI Express Card Type:
Electrical 2×8 G4 Bifurcation, Mechanical x16
USB Connector:
PCB4: 4×1 header
PCB2: 4×1 header
Voltage:
PCIe +12V +/-8%
Wight:
Without transceivers : 440 gr
With transceivers : 594 gr
PCI Connector:
Gold Finger: x16 Lane
Controllers:
Intel E810-CAM2
Intel E810-CAM1
Network ports:
QSFP28, QSFP+, 4xSFP+
Holder:
Metal Bracket
Power Consumption -XR
For P425G410G8TS81-XR:
39.96W, 3.28A at 12V: Typical No SFP+/QSFP
Max: calculated: 60W
Power Consumption -ZS
For P425G410G8TS81-ZS:
47.28W, 3.94A at 12V: Typical full traffic and link on 12 ports
Max: calculated: 60W
Operating Temperature:
0°C – 45°C (32°F – 113°F)
Air Flow requirements
For 45°C recommended:
400 LFM for Hot aisle
300 LFM for Cold Aisle
See thermal specification for more details
Storage:
-40°C–65°C (-40°F–149°F)
Regulation:
CE, FCC Class A, ROHS requirements
LEDs:
PCB4:
Ports 0-3: 4x Green LEDs, one per port: Turns on for Link, Blinks for Activity.
Ports 4-7: 4x Green LEDs, one per port: Turns on for Link, Blinks for Activity.
Ports 8-11:
Option A: 4x Green LEDs, one per port: Turns on for Link, Blinks for Activity.
Option B: One Green LED for all 4 ports. Turns on for Link, Blinks for Activity.
PCB2:
Ports 0-3: 4 x 10 Gbps Green LEDs per port: Turn on Link.
Ports 4-7: 4 x 10 Gbps Green LEDs per port: Turn off on Link.
Ports 8-11: Turn off at Product Rev 2.40 (will be corrected on future revision)
LEDs location:
Ports 0-3: On Metal Bracket, above 4 SFP+s
Ports 4-7: On Metal Bracket, right side of QSFP+
Ports 8-11: On Metal Bracket, right side of QSFP28

QSFP28 25Gigabit Ethernet Technical Specifications Adapters:

QSFP28 (Small Form Factor Pluggable) supports:

(x4) SFI interfaces supports 25GBase-R PCS and 25 Gigabit PMA in order to connect with QSFP to 25GBase-SR (MPO)

25GBase-SR QSFP:
IEEE Standard / Network topology:

Fiber 25Gigabit Ethernet, 25GBASE-SR (850nm LAN PHY).
25.78125GBd
MMF Multi-Mode fiber

QSFP+/ SFP+ 10Gigabit Ethernet Technical Specifications Adapters:


QSFP /SFP+ (Small Form Factor Pluggable) supports:
SFI interfaces supports 10GBase-R PCS and 10 Gigabit PMA in order to connect with QSFP to 10GBase-SR (MPO)

10GBase-SR:
IEEE Standard / Network topology:

Fiber 10Gigabit Ethernet, 10GBASE-SR (850nm LAN PHY).
10.3125GBd
MMF Multi-Mode fiber
STS4 TimeSync NIC P425G410G8TS81
12 Ports 25/10 Gigabit Ethernet Grand Master, Boundary Clock, Slave Clock, PCIe GEN4 TimeSync NIC
| | | |
| --- | --- | --- |
| P/N | Description | Notes |
| P425G410G8TS81-XR | 12 Port 25/10 Gigabit Ethernet TimeSync PCI Express NIC Card | STS4, x16 Gen4, bifurcation 2×8 G4, FHHL, dual slot |
| P425G410G8TS81-ZS | 12 Port 25/10 Gigabit Ethernet TimeSync PCI Express NIC Card | STS4, x16 Gen4bifurcation 2×8 G4, FHHL, dual slot ,SR transceivers |
1V16