Lisbon P2 ACC100 OCP FEC Accelerator Card
Standard temperature P2 eASIC ACC100 FEC Accelerator OCP Server Adapter Intel® Based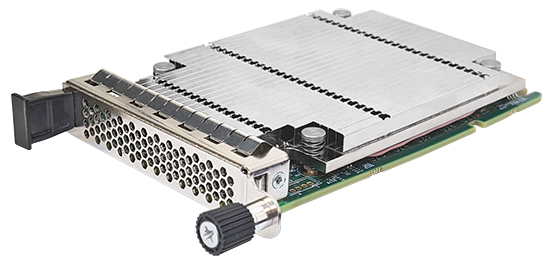 Silicom's P2 eASIC ACC100 OCP FEC Accelerator server adapter is based on the Intel vRAN Dedicated Accelerator ACC100, an Intel eASIC Nextreme-3S device.
The ACC100 provides 4G (Turbo) and 5G (LDPC) encode and decode via PCIe interface.
The ACC100 is packaged in a 35mmx35mm FC1156 package with 1.0mm ball pitch.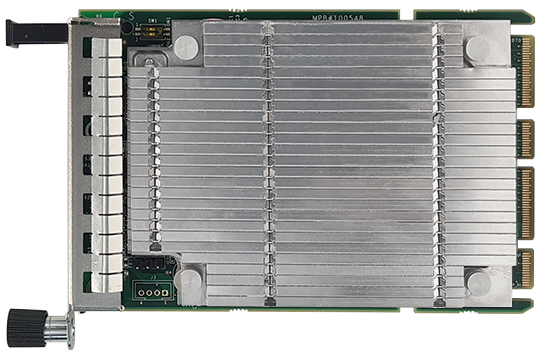 Lisbon P2 ACC100 OCP FEC Accelerator Card
Standard temperature P2 eASIC ACC100 FEC Accelerator OCP Server Adapter Intel® Based
Adapter Key Features:
Support eASIC Nextreme-3S family, 35mmx35mm package.
Supports on board up to 16GBit DDR4 with ECC.
PCIe Gen3, X16.
Support PCI Express Base Specification 3.0 (8 GTs)
Form factor option: a SFF (76 mm x 115 mm) Selection of Heat sink types optimized to application power / host server limitation
Lisbon P2 ACC100 OCP FEC Accelerator Card
Standard temperature P2 eASIC ACC100 FEC Accelerator OCP Server Adapter Intel® Based
General Technical Specifications: 


Chip:
eASIC Nextreme-3S family, 35mmx35mm package with 1.0mm ball pitch
Memory:

Samsung 4GB DDR4 SDRAM 512Mx16 96FBGA.

64bit 2667Mbps DDR-4 with 8-bit ECC.

Mfr. P/N K4A8G165WB-BITD

Interface Standard:
PCI-Express Base Specification Revision 3.0 (8 GTs)
Board Size:
OCP3/ SFF (76 mm x 115 mm)
Card Type:
X16 Lane
Voltage:

+12V + 8%-12% from PCIe Edge Connector.

+3.3V ± 9%

Connector:
Primary Connector (4C+)
Power Consumption:

Maximum: 58.07 W (calculated)

Non-Stress: 37.97W (calculated)

DVT: 32.1W (ldpc_dec_HARQ_8408_3)

Sensors:
Temperature Sensors
Debug Connectors:
3-Pin Header for I2C measurements
Operating Temperature P1:
0°C – 45°C (32°F – 113°F), ambient temperature, Air flow 500LFM
Operating Temperature P2:
– 20°C to – 55°C (-4°F – 131°F), ambient temperature, Air flow 500LFM
Weight:
290 gr (10.23 oz)
Operation system support
Linux
Storage:
-40°C–65°C (-40°F–149°F)
Regulation:
Card shall meet CE, FCC Class A, ROHS requirements.
LEDs:

1x Green Color, active when all power on board are Good

1x Green Color, active when aux power is good
Lisbon P2 ACC100 OCP FEC Accelerator Card
Standard temperature P2 eASIC ACC100 FEC Accelerator OCP Server Adapter Intel® Based
| | | |
| --- | --- | --- |
| P/N | Description | Notes |
| O3iMB-P1 | O3 – PCIe-3, iMB – Intel Mount Bryce, -P1 for Passive Heat sink 1 | Standard Temp |
| O3iMB-P2 | O3 – PCIe-3, iMB – Intel Mount Bryce, -P2 for Passive Heat sink 2 (extended temperature) | E-Temp |