Lisbon-2 ACC100 FEC Accelerator Standard temp
Standard temperature eASIC ACC100 FEC Accelerator Server Adapter Intel® Based
Lisbon-2 eASIC ACC100 FEC Accelerator server adapter is based on the Intel vRAN Dedicated Accelerator ACC100, an Intel eASIC Nextreme-3S device. The ACC100 is packaged in a 35mmx35mm FC1156 package with 1.0mm ball pitch (some balls are de-populated to facilitate break-out). The ACC100 provides 4G (Turbo) and 5G (LDPC) encode and decode via PCIe interface.
The next generation telecom networks (5G) have started hitting the market end of 2018 and will continue to expand worldwide. Beyond just speed improvements, 5G is expected to unleash a massive IoT ecosystem where networks can serve communication needs for billions of connected devices, with the right trade-offs between speed, latency and cost. 5G technology is driven by some specification requirements: Up to 10Gbps data rate, 1-millisecond latency, up to 100x number of connected devices per unit area (compared with 4G LTE), 100% coverage, etc.)

The PCIe shall be deployed in various Xeon based COTS servers ranging from dual-socket Xeon-SP rackmount implementations, single socket Xeon-SP Edge servers through to low-core-count (LCC) based Xeon-D servers. The commercial solution shall be implemented on the Low profile half-length PCIe x16 Gen-3 PCIe add-in card.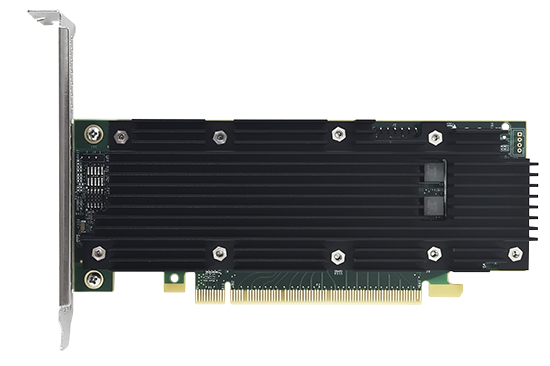 Lisbon-2 ACC100 FEC Accelerator Standard temp
Standard temperature eASIC ACC100 FEC Accelerator Server Adapter Intel® Based
Support eASIC Nextreme-3S family, 35mmx35mm package.
Supports on board up to 16GBit DDR4 with ECC.
PCIe Gen3, X16.
Support PCI Express Base Specification 3.0 (8 GTs)
Half Length, Low profile height
Selection of Heat sink types optimized to application power / host server limitation
Lisbon-2 ACC100 FEC Accelerator Standard temp
Standard temperature eASIC ACC100 FEC Accelerator Server Adapter Intel® Based
General Technical Specifications Adapters: 

Chip
Intel eASIC N3XS
FW Flash
SPI Flash Device
Memory:
Samsung 8GB DDR4 SDRAM 512Mx16 96FBGA.
64bit 2667Mbps DDR-4 with 8-bit ECC.
Mfr. P/N K4A8G165WB-BITD
Interface Standard:
PCI-Express Base Specification Revision 3.0 (8 GTs)
Board Size:
Half Length, Low profile height: 167.64 mm X 64.389mm (6600"X 2.535")
PCI Express Card Type:
X16 Lane
PCI Express Voltage:
• +12V +- 8% from PCIe Edge Connector.
• +3.3V AUX ± 9%
PCIe Connector:
Gold Finger: X16
Power Consumption
Maximum: 52W
eASIC: 36W
Peripherals: 2W
DDRs: 2.5W
Power: 11.5
Sensors:
Temperature Sensor
Debug Connectors
– Header Programming and UART debug interface for BMC x2
– 3-Pin Header for I2C measurements
Operating Temperature P1:
0°C – 45°C (32°F – 113°F), ambient temperature, Air flow 500LFM
BMC
MCU, P/N: EFM32GG11B420F2048GL112-B
BMC Image
Silicom image to support board level management
Operation system support
Linux
Storage:
-40°C–65°C (-40°F–149°F)
Regulation:
Card shall meet CE, FCC Class B, ROHS requirements
LEDs
4x Green Color, active when all power on board are Good.
1x Yellow Color, Fault Status indication.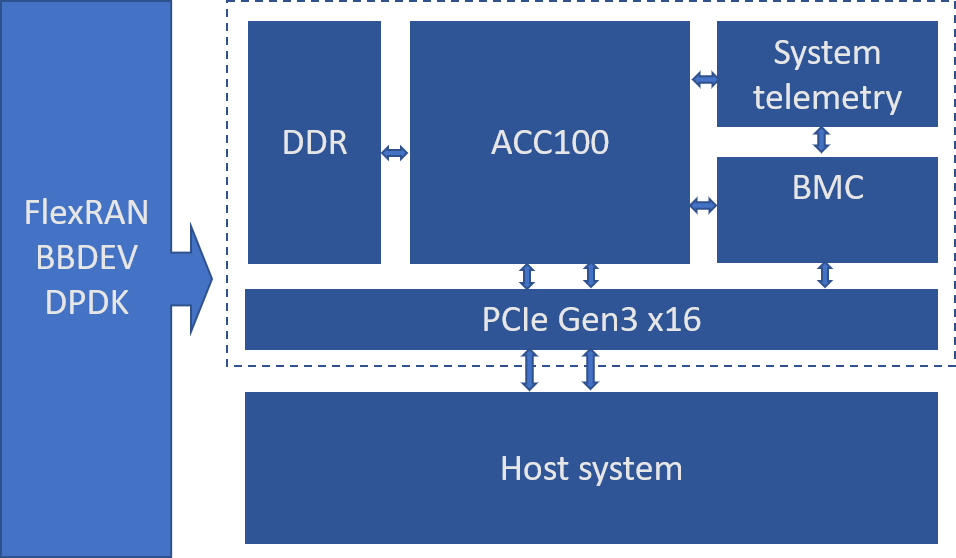 Block Diagram Overview
The ACC100 4G and 5G Wireless Forward Error Correction (FEC) Accelerator is single-chip,
fixed-function SoC that connects with an external host processor through a x16 PCI Express*
(PCIe*) interface. It provides FEC acceleration for both 4G and 5G Base Transceiver Station (BTS)
applications.
The BMC will provide monitoring / telemetry, fault handling. Its responsibility is to keep the
ACC100 card operating. BMC component enables a better management and controlling options for
the card. Such as: voltage monitoring using the sequence device, current monitoring using current
devices, management of Temperature events and processing telemetries from power supplies.
The eASIC have some features, such as: JTAG controller for boundary scan, I2C Master device,
DDR4 Interface and PCIe Gen3 x16 Interface.
Lisbon-2 ACC100 FEC Accelerator Standard temp
Standard temperature eASIC ACC100 FEC Accelerator Server Adapter Intel® Based
P/N

Description

Notes

P3IMB2-M-P1
P3 – PCIe-3, iMB2 – Intel Mount Bryce Lisbon3, -M for management BMC, -P1 for Passive Heat sink 1

Standard Temp,

Standard height (SH) metal bracket mounted on the card. LP metal bracket inside the package, Intel Mount Bryce MM# 99AN5A

P3IMB2-M-P2
P3 – PCIe-3, iMB2 – Intel Mount Bryce Lisbon3, -M for management BMC, -P2 for Passive Heat sink 2 (E-Temp).

E-Temp, 55C

Standard height (SH) metal bracket mounted on the card. LP metal bracket inside the package, Intel Mount Bryce MM# 99AN5A

P3IMB2-M-P3-NE
P3 – PCIe-3, iMB2 – Intel Mount Bryce Lisbon3, -M for management BMC, -P3 for Passive Heat sink 3 (E-Temp+).

NEC, E-Temp+, 80C

Standard height (SH) metal bracket mounted on the card. taller heat sink, 17.7mm HS height, exceeds PCIe standard. BOM Components for E-temp+, Intel Mount Bryce MM# 99AN5A
1V1