October 25, 2016
Silicom Ltd. Introduces the PE31640G2QI71 | 40G / 8x10G PCIe Card Intel® XL710 Based
Dual Port Fiber 40G / 8x10G Ethernet PCI Express Server Adapter Intel® XL710 Based
Silicom's Dual 40G / Octal 10G Ethernet PCI Express server adapter is based on Avago PCI Express Switch and Dual Intel® XL710BM1 Ethernet controllers.
PE31640G2QI71 Server Adapter is optimized so that system I/O is not the bottleneck in high-performance networking applications.
Silicom's Dual 40G / Octal 10G Gigabit Ethernet PCI-Express Server adapters is the ideal solution for implementing multiple network segments, mission-critical high-powered networking applications and environments within high performance servers.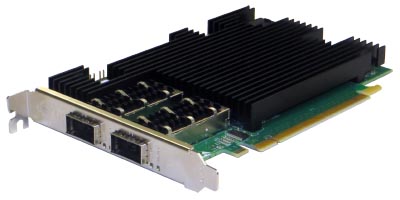 Read more about 40 Gigabit Ethernet Networking Server Adapters