October 25, 2015
Silicom Ltd. Connectivity Solutions today announced that it has released its new Quad Port 10GbE Broadwell DE In-Line System on NIC PCI Express Network Adapter, the PE310G4DE488BS3
The PE310G4DE488BS3 SoNIC (System On NIC) Networking adapter is based on Intel BDW-DE System on a Chip (SoC) Xeon D-1500 technology, configured with quad 10 gigabit SFP+ I/O Ports speed and the QAT Coleto Creek offload engine.
It is designed for offload network applications such as Intrusion Detection and Prevention (IDS / IPS), Unified Threat Management (UTM) and Deep Packet Inspection. It can also be used as an add-on host for passive systems.
Several software packages are available to facilitate line rate packet handling and processing.
Target Applications:
Network application offload
In-line security offload (including SSL proxy arbitrator)
In-line compression offload for storage and backup
Add-on host for management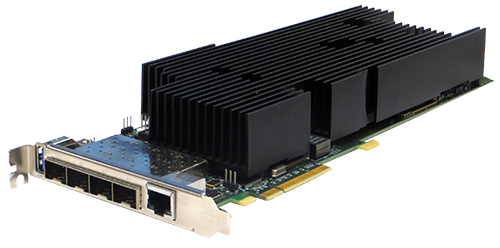 Read more about Silicom's 10 Gigabit BDE Server Adapters