Silicom's new FPGA SmartNIC N5010 series | Intel® Stratix 10 Based SmartNIC
The Silicom FPGA SmartNIC N5010 combines the high performance of a dedicated network appliance with the flexibility of a commercial off-the-shelf server. By accelerating VNFs at the network edge, Silicom FPGA SmartNICs helps transform broadband delivery for communication service providers (CoSPs) dramatically reducing infrastructure complexity and offering real-time services that generate new revenue streams.
With 4G and 5G technology evolving rapidly and new capabilities appearing with regularity, it's essential for network operators to avoid being limited by their hardware choices, while being able to keep up with the increasing network performance demands. CoSPs need to be able to adapt quickly and offer new services as they become available to take advantage of new revenue opportunities.
The Silicom FPGA SmartNIC N5010 is a high-performance programmable PCIe server adapter featuring an Intel Stratix DX210 FPGA, and is designed to accelerate application such as:
Network Function Virtualization (NFV) workloads including:

vBNG: H-QoS, Classification, Policing, Scheduling, Shaping
VPP

Cyber security
Mobile networking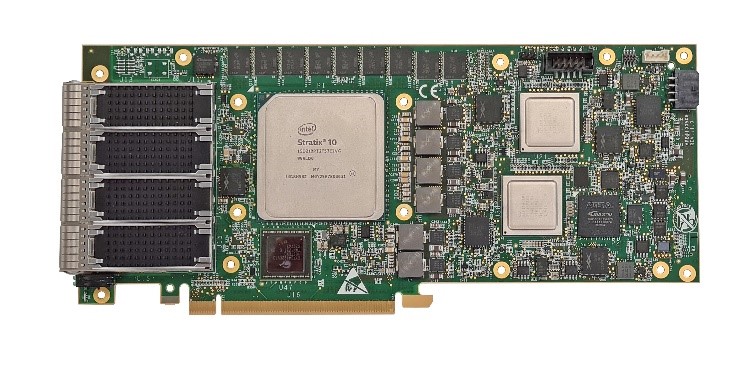 Silicom FPGA SmartNIC N5010 base unit 100 Gigabit Ethernet, PCIe Gen4
Silicom FPGA SmartNIC N5011 base unit plus two Intel E810-CAM1 NIC devices
Silicom FPGA SmartNIC N5012 base unit plus dual host capability with additional PCIe Gen4 x16 port
---
Who are we
Silicom Ltd. is an industry-leading provider of high-performance networking and data infrastructure solutions. Designed primarily to improve performance and efficiency in Cloud and Data Center environments, Silicom's solutions increase throughput, decrease latency and boost the performance of servers and networking appliances, the infrastructure backbone that enables advanced Cloud architectures and leading technologies like NFV, SD-WAN and Cyber Security. Our innovative solutions for high-density networking, high-speed fabric switching, offloading and acceleration, which utilize a range of cutting-edge silicon technologies as well as FPGA-based solutions, are ideal for scaling-up and scaling-out cloud infrastructures.
Contact our experts team to accelerate your services